Explanation and Review of The Belly Fat Cure by Jorge Cruise
Details on the Belly Fat Cure Diet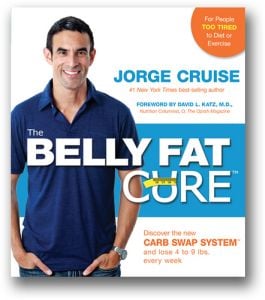 With Jorge Cruise's new weight loss plan The Belly Fat Cure, you don't count calories, you count carbs and sugar. Should you choose to follow the plan, the cover of the book promises that you will "lose four to nine pounds every week," which sounds a bit gimmicky to me. The fitness guru doesn't consider his plan a diet per se, because when following it you don't have to give up the foods you love (like bacon and burgers) — that is, unless you love fruit. Cruise believes the secret to dropping belly fat is eliminating sugar and processed carbs, and his list of belly bad food includes foods naturally high in sugars like carrots, beets, and most fruits.
Cruise fingers insulin as the culprit that increases belly fat. Too much sugar and too many processed carbs, which are quickly metabolized into sugar, increase the levels of insulin, and he explains "insulin manages blood sugar levels and controls the accumulation of fat — especially around the waistline." Since protein and fat do not affect insulin levels, you are allowed unlimited quantities while following the plan, and these nutrients have a high satiety factor "so it is unlikely you will overeat them," adds Cruise.
Learn if low-fat milk and chocolate are approved foods when you read more.
When following Cruise's "carb swap system," you are allowed 15 grams of sugar daily along with six servings of healthy, unprocessed carbohydrates, with a serving being between five and 20 grams of carbs. The eating plan reminds me of a modified South Beach or Atkins diet, but skips the seriously unpleasant carb-free induction phase. Essentially, the plan will have you reading labels for hidden sugars and looking for whole grain alternatives (think bread, pasta, and tortillas) for your six servings of carbs. And both of these are good things.
Cruise is also not a fan of most artificial sweeteners, like apartame, sucralose, and agave nectar. However, he does approve of sugar alcohols, like xylitol, and the herb stevia. In fact, Cruise loves the stevia-sweetened soda Zevia. Dark chocolate with 85 percent cocoa is an approved treat, along with wine and light beer. Yet another surprising no-no is low-fat milk. Cruise favors whole milk products since they contain fewer natural sugars.
The Belly Fat Cure contains four weeks of meal plans and over 100 recipes accompanied by photos illustrating "belly good" swaps. The book is really easy to use as a reference guide, and all the photos certainly help provide motivation.
To give you an idea of the meal plans, here's an example of what Cruise calls his "No Excuse Day," because it's easy to follow:
Breakfast: 3 eggs, 2 slices buttered toast (recommended Ezekial 4:9 Whole Grain Bread)
Snack: Handful of walnuts
Lunch: Tuna salad on one piece pita bread
Snack: 1 cup cottage cheese (sprinkled with approved sweetener)
Dinner: Grilled chicken or steak, sautéed veggies and 1/2 cup brown rice
The book cover claims you can lose "four to nine pounds lost every week," but I feel that losing weight more slowly is healthier and more sustainable. Cruise does admit that only two to three of those pounds will be from real belly fat, and the rest will be from eliminating "trapped waste matter" — probably another reason to eat all those whole grains packed with fiber. Oddly enough, Cruise doesn't encourage exercise either, since it's believed that muscle mass helps process insulin. He does suggest walking for cardio and places three abdominal exercises toward the end of the book. As a fruit lover, I don't think I can get over the fact the a BK Double Stacker ranks a 5/2 (five grams of sugar and two grams of carbs), and an orange is 9/1, making a fast food burger appear better for the food plan. Cruise concedes that after you reach your ideal weight you can add in two servings of fruit of day, but he still sounds wary. But I do like that this diet will have you reading labels and looking for hidden sugars.
You can find the spiral-bound version of the book at Amazon for $14. Let me know if you have tried this diet and what you thought about it in the comments section below.