Extreme Training Can Wreck Relationships
Has Training For a Race Ruined Your Love Life?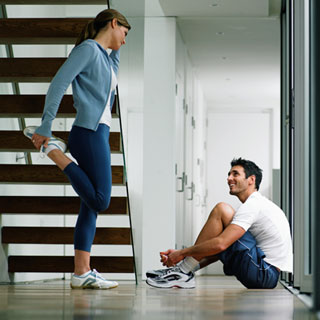 Relationships are hard work — just ask my buddy Très. Training for an Ironman triathlon is hard work too. Put the two together, marriage plus extreme training, and you have some disappointed and lonely spouses. A recent article in the Wall Street Journal details the toll training can have on a relationship: waking up many mornings in an empty bed while your partner runs, swims, or bikes; family vacations centered only around destination races; hot dates skipped due to exhausted spouses or eclipsed by training plans. It can be a life of literally waiting on the side lines.
One way to remedy the situation is to cop the attitude that if you can't beat them, join them. But if kids are involved, another element needs to be factored into the training equation, making it all so complicated. I know. I rarely get to ride with my husband, but our competitive spirits ensure we both keep up on our weekly mileage.
The article highlighted only exercise widows, but I have heard a few men complain about missing their wives as they log miles in their sneakers. Love and exercise are both good for the heart, but has your romantic life suffered from zealous training — either yours or your man's?