FDA Proposes Graphic Cigarette Warning Labels
Feds Want Cigarette Packets With Graphic Warnings
In case you didn't get the message: smoking cigarettes is dangerous for your health. Since a picture is worth a thousand warnings words, the Food and Drug Administration is proposing the placement of graphic images on cigarette packages. The agency hopes the grisly images — corpses, cancer patients, and diseased lungs — will deter people from smoking. Tobacco use is responsible for 443,000 deaths per year.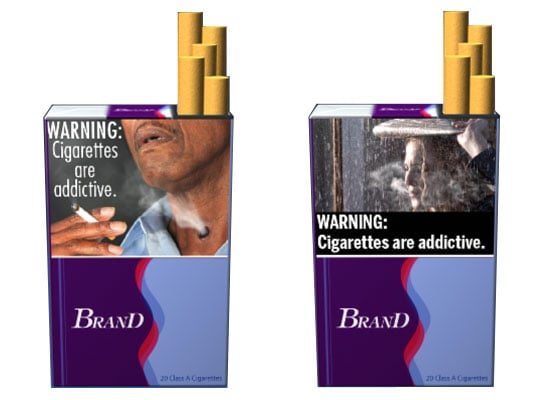 Although there has been a steady decline in smoking, from 40 percent in the 1970s to 20 percent now, the numbers are no longer falling. In a statement released today, the FDA Commissioner Margaret Hamburg said, "The health consequences of smoking will be obvious every time someone picks up a pack of cigarettes."
The FDA has created 36 images to help the agency make sure its warnings have a visual, if not visceral impact. Here are 12 of the images. Take a look and let me know what you think.
Source: FDA