Fall Activities to Do With Your Significant Other
Work Out With Your Other Half: Activities For Fall
Getting outside and doing active things with your significant other can be hard when Fall is in motion. Spring and Summer offer warm weather, allowing for tons of easily accessible activities to do with your partner. Before you go into solo mode and accept working out alone, here are some fun things you can do together. All of these activities will boost your metabolism in preparation for all of the pumpkin treats you can cook together.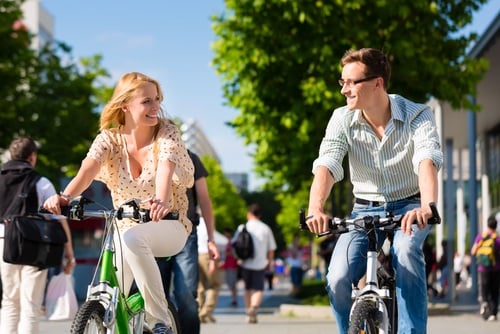 Instead of going for a run alone: Do a high-intensity hike together. Aside from the safety of having someone with you, this is a way to enjoy the beautiful scenery together. You can burn just as many calories walking uphill as you will running on flat land and you might even stay out there longer to enjoy each other's company.
Instead of taking a spin class at your gym: Take bikes out on a trail together. Winter hasn't quite crept up, so you can take advantage of roaming around on two wheels. Choose a more intense bike ride by going mountain biking or keep it a little mellow by doing a city loop.
Instead of going to dance class: Take a yoga class together. Dance classes and even salsa clubs can be intimidating for the nondancer. Yoga is a great place to work out together while getting your own space to meditate and unwind. Check if your local studio or gym has any specials going on: some facilities like Planet Granite offer shared-residence packages, giving you a discount if the two of you live at the same address.
Instead of going to kickboxing class: Enroll in a boot camp. This is a workout that is sure to get you in great shape. Most boot camps are outdoors so you also get the luxury of exercising in the fresh air. The bonus: you guys will love seeing each other work hard and seriously kick butt in class.