Falmouth Road Race: What to Expect
Salty Goodness: Falmouth Road Race Review
Clocking in at seven miles, the Falmouth Road Race is an odd distance in a 10K world. The course, dreamed up by Cape Cod local bartender Tommy Leonard, originally went from bar doorstep to bar doorstep, according to the oral history of the race related at the New Balance Media Retreat by Christine Frazier, president of the Board of Directors of the race. Inspired by Frank Shorter's 1972 Olympic marathon gold medal win, Leonard wanted to figure out a way to raise funds for the Falmouth Girl's Track Club; the following year the inaugural race was run by 95 participants of all ages. Only one bar remains, but the course remains the same. And the number of participants has swelled to around 12,000.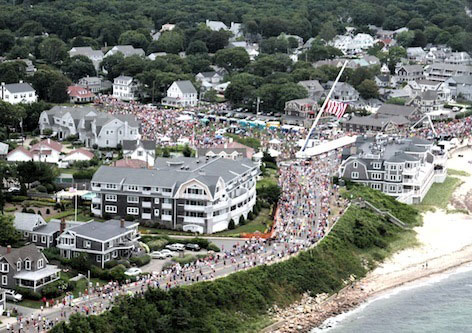 Like the first race, the 39th running of the Falmouth on Aug. 14 was also a multigenerational race from grandparents and grandkids running — I saw more than a dozen small school-aged children cross the finish line. And this course is not an easy one, as I naively believed before heading out to the East Coast to participate in the race. It's hilly! The curvy first three miles contain just as many hills; after ascending the first major hill, runners are treated to the congratulatory theme from Rocky. There is also a devilish climb just before the finish line, but once crested, the route to the finish is all downhill.
Read more about the race.
The locals come out in droves to cheer on the runners: little kids line the road offering high-fives, home stereo systems blast motivational music (my fave song on the course: Boston's own Marky Mark's "Good Vibrations"), live musicians (the cover of "I Want to Be Sedated" takes the prize for most ironic tune of the race), and gentle sprays with garden hoses directed onto the road — the best way to beat the heat. The natural beauty of the course is also beyond inspiring.
There are large water stations at every mile, with a Gatorade station close to mile four. And port-a-potties are available at random yet seemingly evenly spaced spots along the course. Finding the correct corral at the start line was a bit confusing, since racers are smartly divided into waves, and you have to navigate around tight streets in Woods Hole to find your heat. Luckily, there were ample volunteers to steer you the right way.
After crossing the finish, you must wind your way through a long cattle shoot before making it to the postrace festivities and treats: hot dogs, Clif bars, and frozen yogurt. There is ample water and orange slices, handed out by enthusiastic volunteers, right after the finish line though. The race forgoes the usual t-shirt and runners receive a logo-emblazoned mug. If you have a chance to run this race, you should. You can even use it as an excuse to hit the Cape in August.