Fast-Food Calorie Counts Don't Help, Study Finds
Are Fast-Food Calorie Counts Helpful?
More and more, calorie counts are everywhere you look, but people may not be paying attention. A new study has found that adding calorie counts to fast-food restaurants doesn't help us eat any healthier.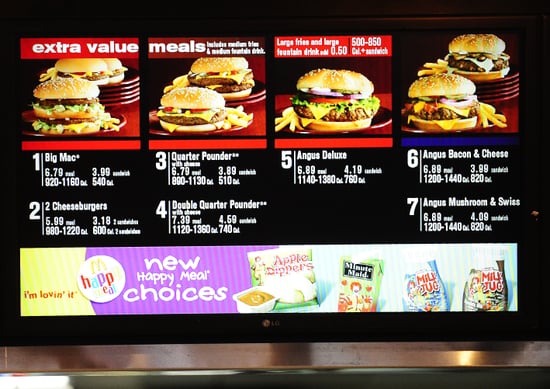 The study, published in the American Journal of Public Health, tracked eating patterns at two New York McDonald's before and after the state implemented mandatory calorie counts on menus. The 1,100 participants were split into three groups: one group was given information about limiting calories to 2,000 per day for women and 2,400 for men; another group was given guidelines to limit calories per meal to 650-800, and one group was given no nutritional information at all.
Even armed with information, none of the participants ate fewer calories than before the counts were listed; in fact, those who were given calorie guidelines actually ate an average of 49 more calories than those who weren't. Why did those who knew just how much they were eating consume more? The study's author thinks that when looking at menu items — like a 550-calorie Big Mac — people may think the calorie count sounds reasonable but forget to add in the other calories from an order of fries or a drink.
Between underestimating calorie counts (and forgetting just how much even little bites add up) and the fact that many restaurant calorie counts underestimate the real total, tell us: do you use fast-food calorie counts to help you make healthier choices?