Fast-Food Meals Under 400 Calories
9 Fast-Food Meals — 400 Calories or Fewer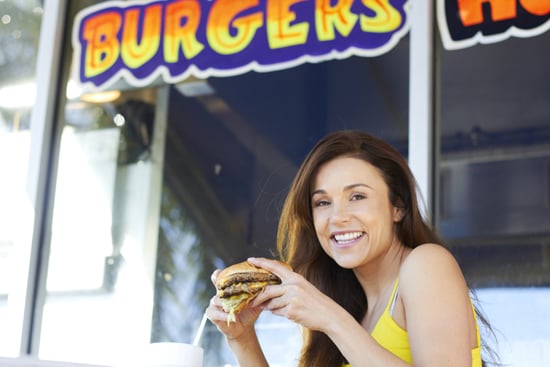 When you're on the road or in a rush, fast food might be the only option. If you're always counting calories in a hurry, this cheat sheet of nine meals will keep the calorie count at 400 or fewer.
Large Chili: 310 calories
Side Salad: 25 calories
Fat-Free French Dressing: 40 calories
Total Calories: 375 calories
Chicken Nuggets (4-piece): 190 calories
Tangy BBQ Sauce: 50 calories
Fruit 'n Yogurt Parfait: 150 calories
Total Calories: 390
Fresh Fit Turkey and Ham Sub: 280 calories
Small Bag Baked Lays: 120 calories
Total Calories: 400
Grilled Drumsticks (3 drumsticks): 270 calories
Mashed Potatoes Without Gravy: 90 calories
Green Beans: 25 calories
Total Calories: 385
Keep reading for five more fast-food meals under 400 calories.
Chicken Soft Taco (1 taco): 170 calories
Side of Black Beans and Rice: 200 calories
Total Calories: 370 calories
Thin Crust Veggie Pizza (1.5 slices): 255 calories
Naked Traditional Wings (3 wings): 135 calories
Total Calories: 390
Whopper Jr. Sandwich: 340 calories
Apple Slices: 30 calories
Total Calories: 370
Burrito Bowl With Brown Rice: 160 calories
Chicken: 190 calories
Fajita Vegetables: 20 calories
Lettuce: 5 calories
Fresh Tomato Salsa: 20 calories
Total Calories: 395
Egg and Cheese on English Muffin: 300 calories
Small Iced Coffee With Skim Milk and Sugar: 80 calories
Total Calories: 380