Fast Lunch Ideas
4 Fast, Filling Lunches For Your Workweek — in 15 Minutes Flat
There's no need to hit the drive-through lane; healthy food can also be fast, without requiring too much preplanning. These healthy options are easy to prepare and, with a little forethought and time, will be no-brainer options for grabbing to go during the week.
Spinach Veggie Wraps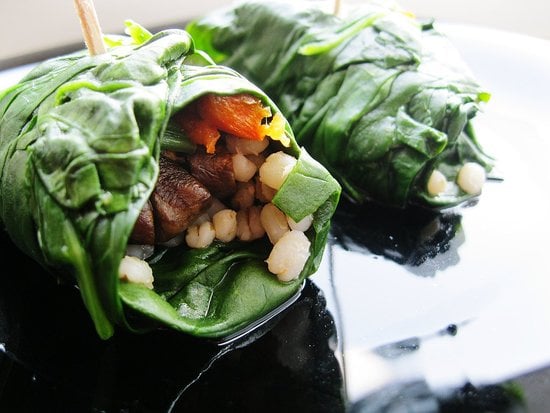 With only five ingredients, these spinach veggie wraps are easy to throw together, even if you're fridge isn't well stocked. And since you can simultaneously cook all the components — barley, steamed spinach, and sauteed veggies — prepping your lunch will take only about 15 minutes.
Creamy Avocado Pasta
Make a little extra of this creamy avocado pasta for a filling day-after lunch (it offers 14 grams of protein!) that only takes 15 minutes to prepare.
Spinach Chickpea Salad
Grab your food processor and make a big batch of this flavorful yet simple spinach, cilantro, and chickpea salad. The fiber and protein will keep you full, while the garlic and lemony flavors will keep your palate pleased.
Tuna Dill Cakes
For an even faster lunch, make a large batch of these tuna dill cakes at the start of the week and add to a bed of lettuce for an instant, protein-packed salad lunch anytime. The cakes will only take you about 15-20 minutes to prepare and bake.