Fat Burning Meals
Blasting Fat Away Has Never Tasted So Good
There's nothing like exercise to help burn away calories and fat, but give yourself an edge by choosing the right foods. This meal plan is full of ingredients known for helping the body burn fat faster. And even though your body's fat-burning abilities are fired up, there's no sacrificing on taste!
Breakfast: Greek Yogurt and Blueberries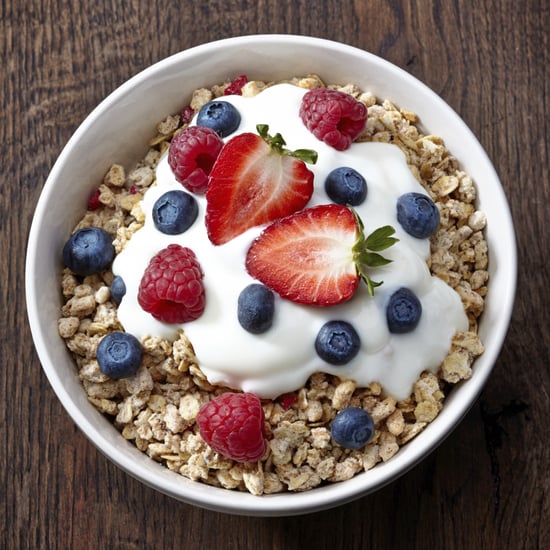 In the morning, go for a bowl of low- or nonfat yogurt topped with fresh blueberries. A Harvard study revealed that yogurt is the best food for preventing weight gain. Meanwhile, a separate study indicated that a diet rich in blueberries may get rid of belly fat!
Snack: Roasted Maple Cinnamon Almonds


These roasted maple cinnamon almonds are a fat-burning match if we ever saw one. High in alpha-linolenic acid, almonds help the body metabolize faster, and cinnamon helps keep blood sugar levels down, helping keep fatty cravings away.
Lunch: Sweet Potato, Chickpea, and Quinoa Veggie Burger


The sweet potato, quinoa, and cayenne pepper work together in this burger to keep the fat-burning cylinders in the body working. Like so many other foods that help ward off hunger, sweet potatoes are high in fiber; like sweet potato, quinoa is also filled with fiber, but it's also best shown to debloat the body. And what's not to love about cayenne pepper? It gets metabolism and your mood soaring!
See what's for dinner after the break!
Dinner: White Bean and Tomato Soup
Cannellini beans contain resistant starch, a unique fiber that takes longer to digest, which is good news for weight loss. Slower digestion means the body has to work harder, and in the process, burn more calories. Make a big pot of this white bean and black cabbage soup; it also contains a bit of Parmigiano-Reggiano cheese, which is shown to increase the body's fat-burning abilities.