The Fight: Lights Out Review From Sony Premiere Event
The Fight: Lights Out Delivers a Calorie-Burning Knockout
I was pretty excited when PlayStation announced the release of its new motion controller, the PlayStation Move, for the PS3. It's Sony's chance to compete against the fitness- and family-friendly Wii, without sacrificing its audience of hardcore gamers. Being an avid Wii player, I was excited to attend a preview party for The Fight: Lights Out ($37), Sony's fighting game that uses the PlayStation Move motion controller.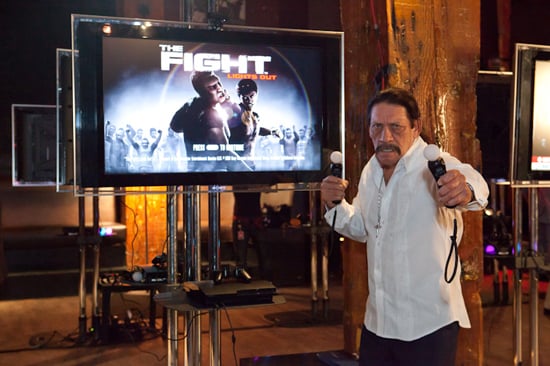 Going into the event I was a little intimidated: I was one of the few gals there, and on top of that, had never used the PlayStation Move motion controller. I was also meeting Danny Trejo, the actor I only know through some pretty scary roles. Danny is the voice of the trainer in the video game and is a total sweetheart IRL.
To see why I think the game makes a fun workout, read more.
The Fight: Lights Out is super fun to play and not for the faint of heart. Mimicking what it's like to be in an underground fight club; it's gritty and bloody, just a straight up street brawl. While you can choose to play the computer, I opted for the multiplayer option and challenged other attendees in the room.
After playing three rounds, my heart was pumping, and I was even sweating a little. Because the game works with the Sony PlayStation Eye camera, it's able to sense the height of the user, making for more exact movements while you play. As you duck, punch, and move around the game area, it translates to the moves your player makes. The motion recognition allowed me to do all sorts of moves, including some pretty dirty ones — think headbutts and hammer blows.
For fitness, I definitely prefer The Fight over fitness specific video games like Wii Fit or Your Shape, because it doesn't feel like a workout; it just feels like fun. At the beginning of the game, you put in all your stats, and at the end of each fighting round, you're told the amount of calories you burned. On average, I burned about 30 calories per round — not bad for five or so minutes worth of fighting. After a few good hours of fighting that night, I went home with some pretty worked arms. Overall, it was a good excuse to skip the gym that night!