Fila Skele-Toes Voltage Running Shoes Review
Shoe Review: Fila Skele-Toes Voltage
Sneakers with articulated toes have been all the rage since barefoot running came onto the scene. It wasn't until Fila sent me a pair of Skele-Toes Voltage sneakers ($75) that I finally tried them out for myself. Like most minimalist running shoes, they're extremely lightweight (6 oz.), but unlike shoes designed with barefoot running in mind, these have a thick, hard sole. Intriguing design, no?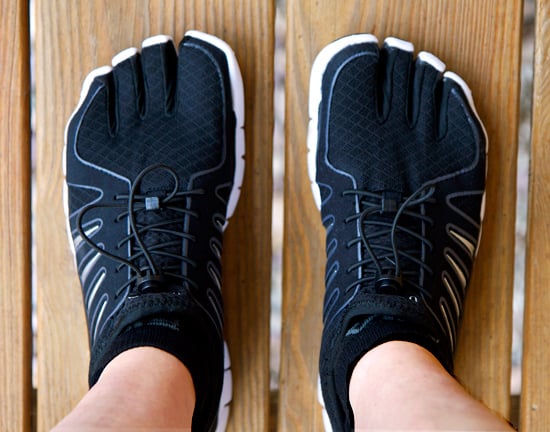 Keep reading to find out the pros and cons of these Fila sneaks.
My favorite feature of these sneakers has to be the bungee lacing system. Just squeeze the plastic button at the top, pull, and the shoe is loosened in one second. The attached tongue makes it easy to slip your foot in. Unlike Vibram Fivefingers, this shoe has only four compartments for your digits — your two smallest toes fit into one. Fila calls this EZ slide, although it still took me a few minutes (on each shoe) to get my toes in the right holes. And before that, it took me a bit of extra time to slip on the Skele-toes socks ($10) (I tried running in these without socks and got a nasty blister after one mile). You'll save time though with the bungee laces since you just squeeze to tighten, and it creates a nice snug fit in no time. I love the plastic "lacehook" attached to the top of the shoe to keep the laces secure.
Aside from the articulated toes, these sneakers are like typical lightweight running shoes since they have a thick, hard, and cushioned sole, which is great if you're used to using a regular running sneaker. But since the toes are separated, it brings your awareness to the front of your foot, which actually changes your running form. As I ran, my strike shifted forward toward my forefoot (rather than my heel), which allowed me to utilize my toes more to push off with each step. This also made my shins extremely sore since they had to work harder, so I found I couldn't run my regular distance right off the bat; I had to gradually work up to it as my foot and leg muscles became used to these shoes (the American Council on Exercise recommends you start out slow when switching from regular running shoes to barefoot running).
As for the toe pockets, they don't fit snugly. The extra room seems like it'd be more comfy, but since my toes were shifting and rubbing against the fabric inside (even with the articulated socks), I ended up with some hot spots under my toes. I also found that my feet developed a dull ache toward the end of my run from my toes being separated, but I think that's just because I'm not used to running in articulated sneakers. I did like the soft, stretchy mesh material on the toes, which made for excellent breathability.
If barefoot running interests you, this pair might make a great transition since it offers the cushioned heel your feet are familiar with while allowing the natural movement your toes would experience when barefoot. The four-toe design might also be more comfortable if you've never worn articulated shoes before. If any of you have had experience with this type of running sneaker, share your thoughts below.