Find Organic, Sustainable, and Local Fare With the Eat Well Guide
Find Organic, Sustainable, and Local Fare With the Eat Well Guide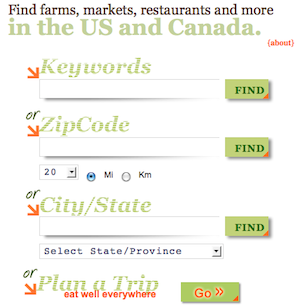 One of the ways you can celebrate Earth Day is by making a conscious effort to eat local and organic foods. I recently found an online directory called the Eat Well Guide that allows you to enter your zip code and a keyword, category, or product, and you are given access to family farms, grocery stores, restaurants, farmers markets, u-pick orchards, co-ops, and more — making it that much easier to eat locally grown food.
With this useful website you can also download handy customized guides, find delicious recipes, upload an Eat Well Guide widget to your website or iGoogle page, learn about ways to advance the green movement, plan a healthy road trip, and find local food and farming events in your area.
Why go local? Food grown close to home is healthier, tastes better, helps reduce your carbon footprint, and often has less pesticide exposure. You will also be supporting your local farms and community, which are more likely to use sustainable farming practices. Cheers to yummy, nutrient-rich food!