Finding the Right Personal Trainer
How to Choose the Right Personal Trainer
Hiring a personal trainer isn't a situation that should be taken lightly. They're not cheap, and if your trainer doesn't know what's up, your time with them can potentially lead to injury. Ideally, you want to find a knowledgeable and committed trainer who can help you reach your goals. Here's what to look for when in the market for a trainer.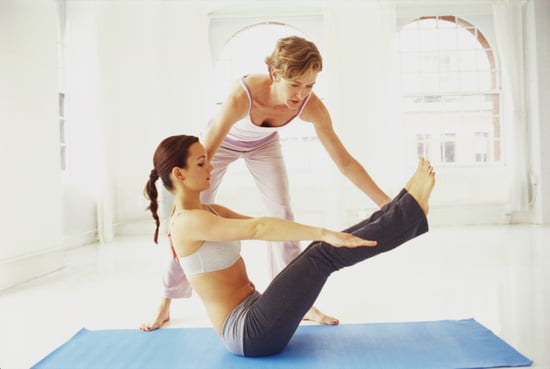 Accreditation and Education
Since there are a lot of shoddy personal trainer certification programs, make sure to look at any prospective trainer's credentials. First, find a trainer who has completed a personal training certification program from a NCAA-accredited organization: the American College of Sports Medicine, National Strength and Conditioning Association, American Council on Exercise, and National Academy of Sports Medicine are all respected within the industry. But don't stop at personal training certification; ask if they have any supplemental education in their field. If possible, find a trainer with a degree in an exercise science or physical education program. It's more than OK to ask to see their résumé.
Personality and Professionalism
Before getting yourself locked into a contract, notice what kind of professional mannerisms a trainer has. First and foremost, make sure that they listen to you carefully — the last thing you want is a trainer who doesn't care about your needs. Since every client is different, a good trainer will set up a program tailored to the individual needs of each client. Honesty and passion also go a long way in a good trainer. You want someone who can set up realistic goals with you and also be candid about how you are doing. Ultimately, the relationship you have with your trainer is a professional one, but finding someone that you mesh well with can be the difference between being able to do 10 push-ups or 20.
See what other traits a good personal trainer should possess after the break!
Experience and Specialization
When it comes to finding a good personal trainer, background is important. Find a trainer who has at least three years experience working one-on-one with clients. And don't be afraid to ask for their track record — you want to make sure that they can handle any injuries or goals you may have. Now is also the time to ask what areas of speciality a trainer might have; from building endurance and strength to injury recovery, many trainers have clocked in hundreds of hours working in a specialized area of interest. Do you want to run a marathon, work on your posture, or drop 10 pounds? Find a trainer who has experience working within your personal needs.
Cost
The cost of a training session can wildly vary — some trainers cost as little as $50 per session, while other trainers can charge in the hundreds. Be realistic about what your goals are and how many sessions you think you'll need to achieve them. Then take a look at what you can afford. While your health is extremely important, don't put yourself in a situation where you can't pay the rent because you forked all your money over to a trainer. Of course, more experienced trainers will generally charge more. Often times, you can negotiate a better rate by paying for multiple sessions at once.