Fitness Activities to Do at the Beach
Don't Lay Out, Work Out!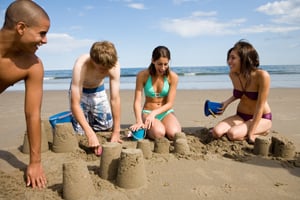 Last weekend my friends and I loaded up the car and drove to the beach for some major lounge time. Our agenda was pretty simple: grill, lay out, read, and occasionally go for a (quick) dip in the ocean. Given that we're all pretty active in our day-to-day lives, we figured out pretty quickly that laying out in the sun wasn't enough to keep us occupied. While we wished we'd thought ahead by bringing a paddleball or volleyball set, we still found some fun ways to be active.
Since the water in Northern California is pretty cold despite the 85-degree weather, water activities were out of the question. Here's what we did instead:
While it may seem like a no-brainer, go for a nice, long walk. To challenge yourself even more, try wading through the ocean while you're walking to create some resistance while you move. Or if you're like my friend Shaun, decide to ditch the group and go for a 30-minute run along the beach. Since walking and running on sand burns 30 percent more calories than you would on a hard surface, you'll burn off all that food you grilled up.
Really embrace the idea of sun salutations and practice yoga on the beach. I should be honest by admitting that I sat out during the yoga part of the day, but two of my friends said that the soft sand was the perfect place to practice their inversions.
Get back to basics and do some push-ups and sit-ups. Sounds silly, right? Well, given all the standing boulders and picnic tables, there wasn't a more perfect place to do leaning push-ups. Not wanting to make complete spectacles of ourselves, we did pick an area that was pretty far from the crowds.
An easy way to get some cardio in, and work those arms, is to build a sand castle. Going back and forth to the ocean to get water, while also digging holes into the ground is more of a workout than you think it is. Other folks must know this since we weren't the only adult group building a castle.
What do you do at the beach — lounge or bounce around?