Fitness Advice From Interviews With Celebrity Trainers
Best of 2011: Our Favorite Advice From Celebrity Trainers
Celebrities spend thousands of dollars to work one-on-one with trainers like Tracy Anderson and Harley Pasternak. This year, we got the star treatment and chatted with a host of celeb trainers about what it takes to be healthy and fit. Keep reading to see what some of their best advice was this year!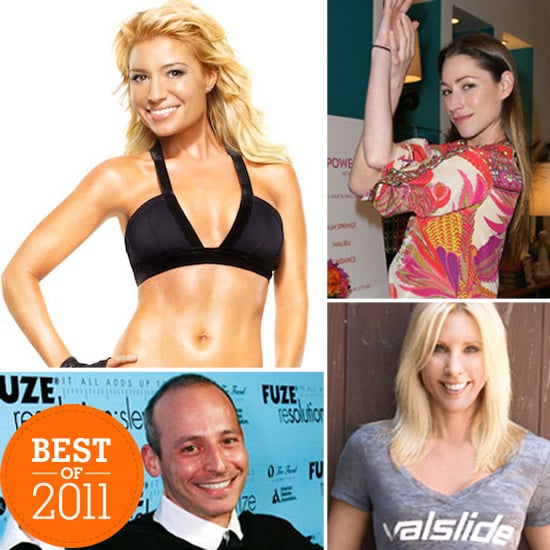 Tara Stiles on letting go: From mastering a pose to worrying about slipping on your mat, yoga can sometimes be stressful. But stress is the exact opposite of what yoga should be, says Tara. Yoga is all about reducing tension, and an easy way to do this, says Tara, is to connect with your breath, "Every inhale makes more room in your body, self, and mind. Your pose should feel easy with deep breaths helping to guide you from the inside out — no struggling; no clenching; slow, slow, slow." And if all else fails, Tara says the Pigeon pose is a go-to for stress relief.
Gunnar Peterson on goal-setting: Going to the gym to mindlessly log the same amount of miles you do every single day of the week doesn't fly with Gunnar. This man is all about goals. When working with his clients, Gunnar sets goals to challenge and push them further than they would if left on their own. Take Gunnar's advice by challenging yourself with a workout goal whenever you hit the gym, go for a run, or embark on a ride. Set bigger, long-term goals for yourself and reward yourself with a small treat when you reach them — now that's a way to stay motivated!
Keep reading to see what Harley, Tracy, and Valerie had to say after the break!
Harley Pasternak on going global: Harley told us that some of the healthiest foods are found in other countries. Expose your palate to different cuisines—whether it's Greek yogurt, Japanese tofu, or Swedish rye bread—and you will find foods that are nourishing, slimming, and never boring. Check out more on Harley's Five Factor World Diet.
Tracy Anderson on dressing for (fitness) success: Tracy knows that cute and stylish fitness clothes can be the motivation that takes you to the gym. For Tracy that means finding clothes that are "soft, unique, and sexy." Take a cue from Tracy and find your own motivation in one these cute and stylish fitness finds.
Valerie Waters on clean eating: We're with Valerie, "If a food item has ingredients you don't recognize or can't pronounce, you probably shouldn't eat it." Stick to a healthy diet filled with whole, natural foods — the fresher, the better.