Fitness DVD Review of 10 Minute Solution Belly, Butt, and Thigh Blasters
DVD Review: 10 Minute Solution Belly, Butt, & Thigh Blasters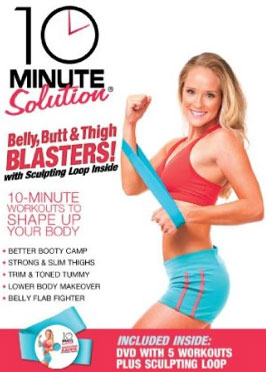 Everybody loves a free gift, right? With 10 Minute Solution Belly, Butt, & Thigh Blasters, you get a free sculpting loop. Though it takes some time to break in, it's a perfectly serviceable resistance band for this or any other workout.
Hosted by Jessica Smith, the bubbly but encouraging coach of 10 Minute Solution Quick Tummy Toners, this 50-minute workout DVD is split into five 10-minute segments. The first three segments are divided into abs, thigh, and booty workouts that combine Pilates, ballet, and resistance moves. The last two are cardio-focused, with an ab segment and a lower body workout. Even the noncardio segments are fast paced, so doing three at once will guarantee a good sweat. For the rest of my review,
.
Though I'd classify this as an intermediate-level workout in terms of intensity, none of the moves are complicated or difficult to learn, and Smith is a capable instructor. On my first run through the video, I had to move a bit slower than she did in order to maintain my form, but after getting familiar with the routine, I found the cardio and the strength-training segments easy to follow.
Which doesn't mean they were easy to do! The resistance band definitely increases the intensity of the balancing moves, squats and lunges, and bicycle crunches in an effective way. Plus, even though the segments are divided by the area of the body they work, most of the moves are multitasking, so by the end, my whole body was fatigued — a good thing in my book.
Check out the video below to see what you can expect. If you end up not liking the DVD, at least you get a free sculpting loop out of the deal.
Have a fitness DVD that you love? Write your own review in our Get Fit For 2010 community group. This is the week to catch up on all the previous challenges to enter to win our weekly prize — $100 Nike gift card — and our fabulous grand prize.