Fitness Lessons Learned From Black Swan
A Few Fitness Lessons From Black Swan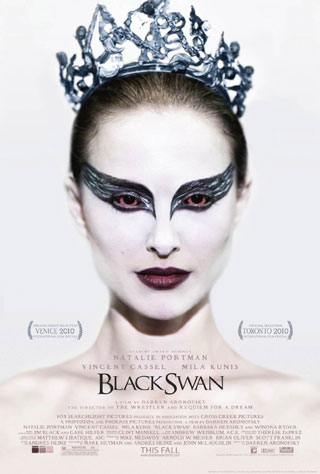 If you're a runner then you know the importance of managing the length of your toe nails, and if you've seen Black Swan then you're hip to keeping your fingernails trimmed, too. In the midst of the creepy, claustrophobic film there are a few fitness lessons to be learned, not including the Balley Beautiful method Natalie Portman followed to ready herself for playing perfectionist ballerina Nina Sayers.
Know your gear. Watching the lithe dancer pound away at her toe shoes makes you appreciate the deep relationship between a ballerina and her shoes. While I believe running shoes should feel good fresh out of the box, I do feel it's important to know and test your gear: what socks perform well in the rain, is this bra supportive enough for running, and are these shoes flexible enough to merengue in Zumba?
Good costuming covers up your flaws. With her scratching compulsion, Nina wore the sweetest shrugs in class and rehearsal. You too can cover up what you feel are your imperfections with smart "costuming" choices, especially for those heavily mirrored gyms. Don't like the shape of your thighs? Try Fila's toning capri. Not in love with the shape of you belly? Wear the strategically ruched Ella tank by Zobha and head to the gym. Wear what you feel comfortable in and your confidence will soar.
Keep reading for two more lessons; but beware there is a bit of a plot spoiler below.
It's supposed to be fun. To state the obvious,

little miss

ballerina is a perfectionist and it's painful to watch. We all strive to do our best, but sometime we need to state the hackneyed phrase — nobody is perfect. Amateur athletes and weekend warriors want to win, but it's really about the fun of the game, the joy of the run, the feeling of your body in motion. You miss a free throw, a shot on goal, don't beat your PR — let it go and enjoy the ride rather focusing solely on the destination.
Workout buddies can be key to success. Nina is a loner and not necessarily by choice. Her isolation leads her down a psychotic path. If only her friendship with Lilly (the dangerous, sexy rival ballerina played by Mila Kunis) had blossomed in reality instead of her head, Nina's debut could have been a beginning rather than an end. Workout buddies buoy your spirits on the last 20 miles of a century ride, so you can keep pedaling. They make pool dates with you so you can't flake out of an early morning swim session. Your running buddy talks and listens while you log the miles working out your legs and your personal problems. Fitness friends can inspire, and they also have your back.
Do you think Natalie will win for best actress?