Fitness Lessons Learned in Gymnastics
Fitness Lessons Learned From Childhood Gymnastics Training
Besides teaching important values like responsibility, determination, and teamwork, organized sports for children provide fitness foundations that can last a lifetime. I spent 14 years as a gymnast (10 of those competitive), and while I haven't been up on a balance beam in years, I learned plenty of fitness lessons that I've carried with me from my years of chalk dust and glitter.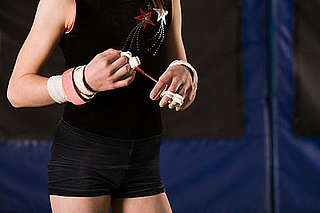 Balance: This is an obvious one; after all, flipping heels-over-head on a four-inch balance beam requires a whole lot of balance. I developed a good sense of balance at an early age and now know that a good sense of balance helps with things like muscle tone and even repairing damaged brain pathways.
Eye contact: I was a shy child, but incredibly competitive. In competition, a huge part of a floor routine is showmanship — smiles and eye contact with the judges included. It took me several years of competing to move out of "shrinking violet" mode and into "ham it up" mode, but the difference between a well-scored floor routine and an excellently scored floor routine is eye contact. Remembering this has helped me personally and professionally, from helping my relationships with others to helping my confidence in the office.
There's more! To find out what else I learned, keep reading.
Poise: "Point your toes!" "Chin up!" Who knew that my coach's directions would help in my everyday life? But those years of straining to point my toes and keep my shoulders back have helped my posture. Whether I'm sitting at my desk or walking down the street, I remember to keep my chest up and shoulders back!
Core strength: Those hours of timed crunches were worth it. From completing a solid beam routine to performing on the uneven bars, there's not one trick that doesn't require a strong core. While I don't expect to be glide-kipping my way onto the uneven bars ever again, core strength has helped me reach other fitness goals, like distance running and learning to surf!
Flexibility: Stretching is an important part of gymnastics, as is increasing flexibility. I've incorporated stretching into my daily fitness routine. From helping with sore muscles to helping me wake up in the morning, stretching may be the best habit I've kept from my days in the gym.