Fitness Tip From Celeb Trainer Harley Pasternak: Always Wear Your Running Shoes
Harley Pasternak Is Always on the Run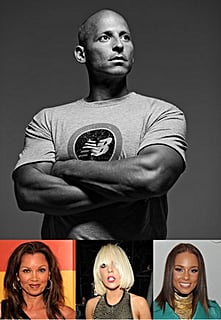 I was lucky enough to talk to celeb trainer Harley Pasternak, who shared a tip that seems perfect for the weekend. Harley says that the singular, most important piece of fitness advice he can offer someone is, "get a great pair of running shoes." On top of that, Harley says that you should always be wearing them, always.
"Wearing a solid pair of running shoes helps put you in the mindset of being active," says Harley. "Every time you see me, everywhere in the world, I don't care if I'm wearing dress pants or shorts I always wear my New Balance 993s. Because if I see a flight of stairs I want to be like, all right I'll take the stairs no problem, because my feet are comfortable."
Listen ladies, I know that wearing your running shoes 24/7 is not always an option; I think most would agree that even the coolest pair of kicks are not the best way to set off your LBD. So while I might not be wearing them all the time, I do get what Harley is saying. At work I keep a pair of cross-trainers in my file cabinet so I can take a walk or head to the gym during my work day. And I know that many girls — including Kim Kardashian — wear their workout clothes out as a way to motivate themselves to exercise later in the day.
Even if you don't have a good pair of fitness shoes, think about investing in them. They're great to have on hand for talking a walk, going on a hike, or any other form of fitness that strikes your fancy!