Fitness Tips From the Women at Fila
Motivation and Exercise Tricks From Fila's Fitness Ambassadors
We are excited to share one of our fave stories from Fitness Magazine here on FitSugar!
Here at FITNESS, we're big fans of non-traditional models getting the opportunity to do a little modeling (see here)! So Fila caught our eye with their new campaign involving women from across the country as their Body Toning System Ambassadors, who also modeled the apparel for ads for the brand. The six fit females are all unique, but all are extremely dedicated to taking care of their bodies and staying healthy.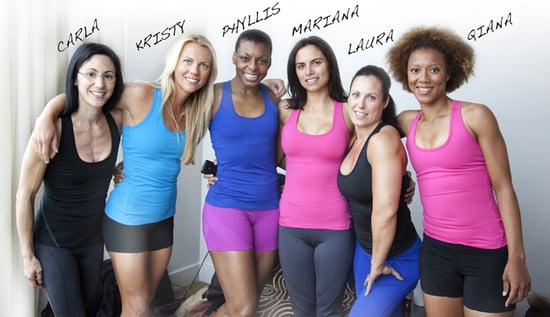 We asked each of the ladies to share their choice workout move, top tip for staying motivated or favorite trick for sneaking in a workout when time is tight.
Get creative. "Try chair triceps dips in the kitchen while preparing food or do soup kitchen biceps curls in the grocery store." — Carla Birnberg, wife, mother, entrepreneur and blogger at MizFitOnline.com
Frame fitness right. "I see exercise almost like a 401(k) plan. If you invest in it, you will reap the rewards at retirement! I desire to be the best me, and exercise helps to ensure that I can fulfill that on the health front." — Qiana Martin, international soccer athlete, global soccer ambassador and owner of EatSoccer.com
Think twice. "If you feel like a snack, try doing lunges on your way to the kitchen so that you have time to think twice about what you are about to eat." — Kristy Petrillo, wife, entrepreneur and real estate agent

Read on for more fitness tips from Fila's Fitness Ambassadors.

More from FITNESS:

• The Face of FITNESS Cover Contest 2011

• What We Love About Our Bodies