Five Ways to Prepare Acorn Squash
5 Ways to Upgrade Your Acorn Squash
What's not to love about Winter squash? It's naturally sweet. Its orange color brightens up any meal. And the acorn variety naturally comes in a handy two-serving size.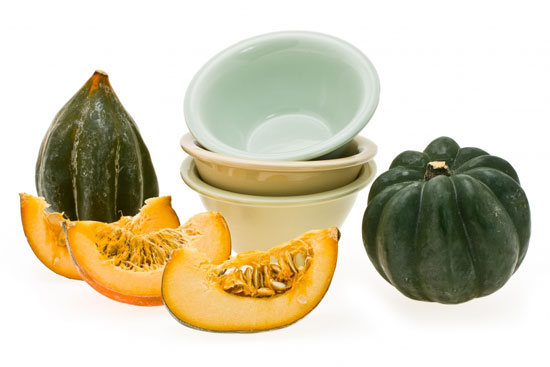 Loaded with beta carotene, the antioxidant that gives the squash its lovely hue, and fiber — 5.7 grams per cup — acorn squash is an excellent addition to many meals and is so easy to prepare. You simply:
Cut the squash in two, scoop out the seeds
Brush the sides with olive oil
Sprinkle with salt and pepper
Bake face down on a rimmed dish for 30 minutes at 400 degrees
Flip squash to brown the insides by cooking for another 10-15 minutes
Easy peasy! There's also no reason to send your squash into the oven naked. You can adorn it with many tasty spices. Hear five ways to spice up your squash when you
.
Here are five variations for preparing acorn squash; just add these toppings when you flip the squash before browning.
In each squash half, spread one of the following toppings:
1/2 teaspoon honey, then sprinkle 1/2 teaspoon curry powder
1/8 cup bread crumbs
1/8 cup finely grated Parmesan or Asiago cheese
1 tablespoon coarsely chopped pecans with 1/8 teaspoon cinnamon
1/2 tablespoon maple syrup
How do you cook your acorn squash? Tell me in the comments section below.