Flourless Chocolate Cake Recipe That's a Bit Healthier
Dessert For Valentine's Dinner: Flourless Chocolate Cake
Light the tapered candles and get ready to celebrate Valentine's Day at home. A romantic homemade meal can be kind to your wallet and your waistline. Preparing healthier dishes doesn't mean you need to skimp on taste or skip dessert — it's a day dedicated to chocolate for goodness sake!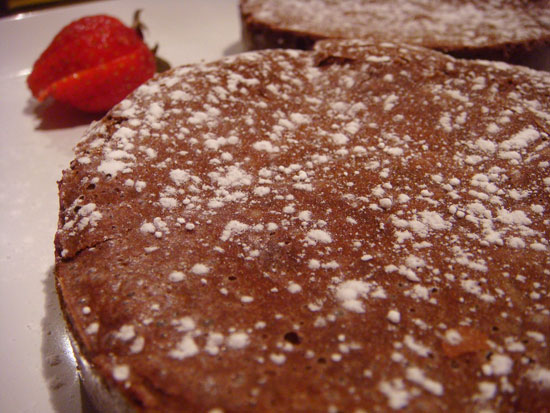 Dr. Connie Guttersen, author of New Sonoma Diet, calls almonds and dark chocolate a dream team combination. Together these ingredients provide an antioxidant boost and make a hunger-suppressing sweet treat, which means you get to indulge without overdoing it. Remember, an overstuffed belly can dampen your desire. Bringing the dream team together, Guttersen created this flourless chocolate cake recipe for her new book. A slice of this cake would make the perfect ending to your V-Day dinner.
Ready to meet your new fave chocolate dessert?
Ingredients
4 ounces good-quality bittersweet chocolate (72% cacao), in small pieces
¼ cup butter
¼ cup nonfat yogurt
3 eggs
1/3 cup white sugar
¼ teaspoon salt
½ teaspoon vanilla
1 ¼ cup finely chopped almonds
1 tablespoon powdered sugar
3 cups fresh raspberries, blueberries, or strawberries
Directions
Preheat oven to 325 degrees F. Spray a 9-inch round cake pan with a nonstick cooking spray. Line the bottom of the pan with parchment paper and spray again on top of the parchment paper. Place chocolate and butter in a bowl. Place over a pot of barely simmering water. Gently heat until the chocolate is melted. Whisk in yogurt and set aside.
In a large mixing bowl, beat eggs and sugar with an electric mixer until thick and fluffy, about 4 minutes on high speed. Stir in salt and vanilla. Add nuts; then gently fold in chocolate. Do not overmix. Pour into prepared pan. Bake 30-35 minutes or until a toothpick inserted in the center of the cake comes out clean. Dust with powdered sugar and serve with ¼ cup of fresh seasonal fruit.
Serves 12.
Culinary Notes:
Do not melt the chocolate over boiling water or the chocolate may scorch. Gentle heat is best, and stir periodically.
Whip the eggs and sugar until light in color and full of air. This leavens the cake and gives it a light texture.
Nutrition Facts per Serving: 207 calories, 5 g protein, 14 g fat (5 g saturated fat), 17 g carbohydrate, 4 g fiber, 63 mg cholesterol, 97 mg sodium, 5.8 glycemic load.
Information
Category

Desserts

Cuisine

North American
Flickr User megan.chromik