Foam Roller Exercises and Stretches
Get Massaging and Rolling With a Foam Roller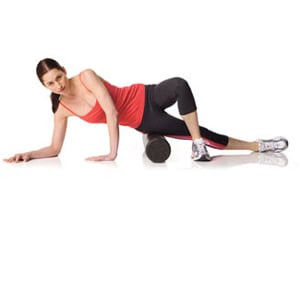 There's nothing quite like a sports massage to help one feel rejuvenated and refreshed. Unfortunately, we don't all have the time and money required to pamper ourselves on a routine basis. Enter the foam roller. The cylindrical apparatus can provide your body relief in your own home or at the local gym. It helps the body relax and stretches it in ways that are often left to therapeutic masseuses. Come check out a few simple rolling techniques that will have your body smiling inside and out.
Psoas Stretch: If you have tight hip flexors or lower back pain, try the psoas stretch. Lie perpendicularly on the foam roller with your sacrum just on top. Pull one knee up to the chest with the opposite heel on the ground. Hold for 30 seconds and switch legs.
Quad Release: Do you run or climb much? The quad release exercise helps release tension in those muscles. Lie face down with your quads on the roller and your hands on the ground. Using your hands, roll yourself back and forth over the roller to massage the quads.
The IT Band Stretch: Avid runners know that the IT band is not to be messed with. To keep your knees healthy and prevent them from tightening up too much, roll on the IT band area. This video shows you how to do it correctly.
Want more? Come check out some other moves that will massage the glutes, chest, upper back, calves, and shins!