Food Review of Chobani Strawberry Banana 2% Yogurt
Good News From Chobani: New Flavors and Free Yogurt!
Greek yogurt has not only become my favorite kind of yogurt, but it's also one of my all-time favorite foods. I love the thick and creamy texture, and the dose of protein. One six-ounce container offers 14 grams of protein or more (depending on the flavor and brand).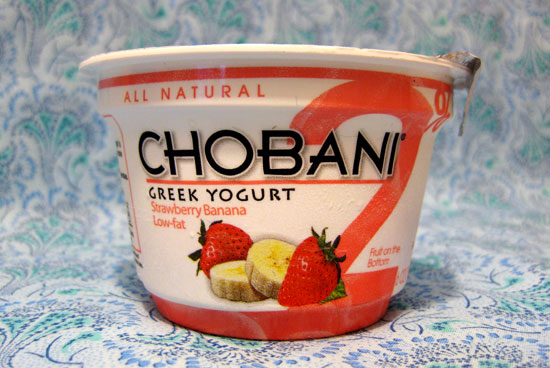 Lately, I've been putting Chobani in my grocery cart — it's less expensive than the Fage or Oikios at my local market. But I also love the taste and consistency. When reaching for my usual flavors, plain and blueberry, I did a little dance when I noticed some new flavors. You may have already seen them at your grocery store, but they were new to me — nonfat raspberry and low-fat banana strawberry, which I picked up. To find out what I thought about them, read more.
If you love yogurt with real fruit on the bottom, you're going to love this new flavor. The creamy yogurt is banana flavored, and when you mix in the real strawberries from the bottom, you get the fresh tasting combination of the two fruits together. I'm used to eating nonfat yogurt, so this yogurt was a real treat. It is so creamy and full of sweet, delicious flavor. It honestly tastes as decadent as ice cream, and would make a great healthy alternative.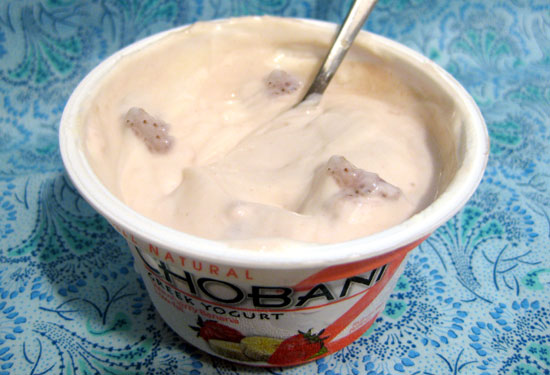 As you can see from the nutritional information below, it contains slightly more calories, fat, and cholesterol than the nonfat strawberry, but it also contains more fiber and fewer grams of sugar. If you're not worried about eating too much saturated fat and cholesterol, I would highly recommend this low-fat strawberry banana Chobani. I know I'll definitely be buying it again. You can feel good about eating 14 grams of protein, and your taste buds will feel good about the amazingly luscious flavor.
| | | |
| --- | --- | --- |
| | 6 oz. cup Strawberry Banana 2% | 6 oz. cup Strawberry 0% |
| Calories | 160 | 140 |
| Total Fat (g) | 3 | 0 |
| Saturated Fat (g) | 2 | 0 |
| Cholesterol (mg) | 5 | 0 |
| Sodium (mg) | 65 | 65 |
| Carbs (g) | 19 | 20 |
| Fiber (g) | 1 | less than 1 |
| Sugars (g) | 17 | 19 |
| Protein (g) | 14 | 14 |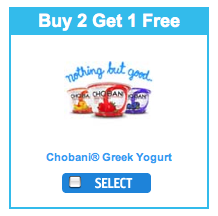 What's even better is that you can visit Chobani's website and download a coupon for free yogurt. Just type in your name, email address, and print it out.