Foods That Contain Trans Fatty Acids
Fat Talk: Trans Fatty Acids
Not all fats are bad for us, but too many saturated fats (ones derived from animals) can be bad news for your heart. Another fat on the naughty list are trans fatty acids. Commonly called trans fat, these are "the chemically-altered fats." Most trans fats are a side effect of partial hydrogenation of plant oils (companies use them to increase the shelf life of their products). Trans fat is neither required nor beneficial to our bodies, and eating trans fat can increase your risk of heart disease, miscarriages, and type 2 diabetes.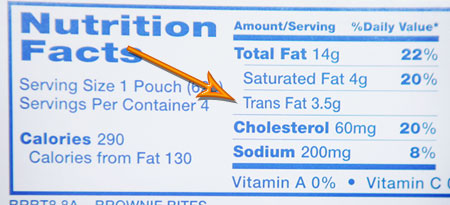 Some trans fats can occur naturally in small quantities in meat and dairy products such as beef, lamb, and butterfat. It's not clear whether these have the same negative effects on your cholesterol levels as the manufactured kind.
The American Heart Association recommends that less than one percent of your total daily calories should be trans fat. That means if you eat a 2,000-calorie diet, eat less than two grams a day.
There may be trans fat lurking in your foods without you even knowing. To find out why read more.
Reading nutrition labels on packages may seem like a no-brainer way to find trans fat. The problem is that a product may claim to have zero grams of trans fat, when in reality it may contain less than .5 grams. That's because companies aren't required to list it on the label if it contains this much. Sneaky, I know, but you can be just as crafty by looking at the ingredient list. Assume a food contains trans fat if the ingredients include any of the following: shortening, partially hydrogenated vegetable oil, or hydrogenated vegetable oil. Here's a list of common products you should watch out for.