Foods That Fight Sunburn
8 Foods That Fight Sunburn
You slather on the sunscreen and never take a trip to the beach without a hat, but sometimes, sunburns happen. Lessen the pain by eating a diet full of these foods that help prevent sunburn from occurring in the first place!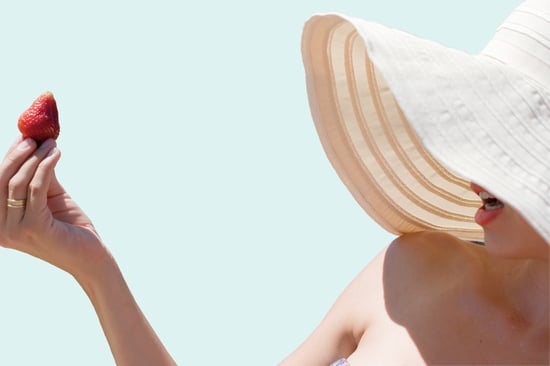 Berries: Blueberries and raspberries contain high levels of ellagic acid, which may help protect your skin from sun damage, while strawberries are high in skin-protecting Vitamin C.
Citrus fruits: Besides being high in Vitamin C, fruits like oranges, lemons, and limes contain limonene, a nutrient that may have skin-protecting properties.
Green tea: The catechins in green tea can almost do it all — besides their disease-preventing properties, they have also been shown to protect against sunburn inflammation and longterm UV radiation damage.
Lovage: The stalks of this uncommon herb resemble celery, while its leaves can also be used in salads. Grab some if you see it at your farmers market, since lovage contains high levels of quercitrin, a flavonoid that has shown to reduce UVB skin damage.
Pomegranates: A 2006 study found that the ellagic acid in pomegranate extract had a protective effect on sunburns when participants took it orally for four weeks.
Red grapes: These are also high in quercitrin, so pop some in your freezer and enjoy them as an icy treat on a hot Summer day.
Tomatoes: Time for pasta night — a German study found that participants who ate a quarter cup of tomato paste every day for 10 weeks (along with about two teaspoons of olive oil) had 35 percent less skin reddening when exposed to UV radiation than those who didn't follow the tomato-paste diet. Tomatoes are high in lycopene, a carotenoid that is being studied for its ability to protect against sun damage.
Watermelon: The Summer staple is high also in lycopene, so enjoy watermelon as much as possible during your outdoor festivities.