Foods Surprisingly High in Sodium
5 Foods Surprisingly High in Salt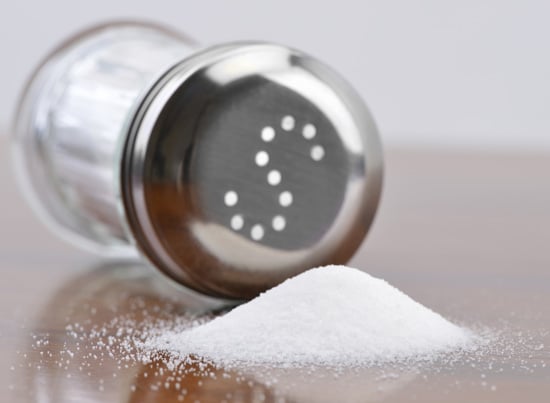 A diet high in sodium has been linked to high blood pressure, cardiovascular disease, and stroke. If the long-term risks aren't enough to make you listen, too much sodium also makes you retain fluid, leading to major body bloat. The American Heart Association recommends a daily intake of 1,500 milligrams of sodium, but the average American currently consumes 3,436 milligrams per day. While soy sauce or a can of condensed soup are obvious high-sodium foods, there are some sneaky places where salt hides. Knowing which foods are hidden with high-sodium counts can help you plan ahead, limit consumption, and stay on top of your intake for the day.
Cottage cheese: Choosing nonfat cottage cheese cuts back on calories, but a half-cup holds 420 milligrams of sodium. If you're craving something creamy and convenient first thing in the morning, grab a container of Greek yogurt instead. It only has 80 milligrams total, less than one-fourth of cottage cheese's count.
Bread: Even if you're already steering clear of refined carbs, you must watch out for the salt levels in all bread varieties. Certain six-inch whole-wheat pitas can boast up to 340 milligrams, while two slices of rye contain 600 milligrams. Load sandwich toppings on lower-sodium options like a whole-wheat sandwich thin or whole-wheat hamburger bun. These little changes knock hundreds of milligrams off your plate.
Jarred red sauce: Marinara sauce is low in calories and high in fiber, but one half-cup of traditional pasta sauce has 540 milligrams of sodium. Always take no-salt-added varieties off the shelf at your grocery store when possible.
Cereal: A hearty cup of raisin bran might be your favorite breakfast, but you're setting yourself up for a sodium-filled day. One cup clocks in at 342 milligrams. Switch them out for amaranth flakes, and top your bowl with a handful of raisins; the flakes themselves have no sodium and a whole minibox of raisins contains just two milligrams.
Creamy salad dressing: Your go-to salad dressing might seem light, but just two tablespoons of zesty Italian dressing hold up to 520 milligrams. Look beyond the low-fat label, and check the sodium level. Shaking up your own homemade dressing in your kitchen takes just a few steps and is a far healthier — not to mention tastier — choice.