Foods You Can't Eat on the Paleo Diet
5 Surprising Foods You Can't Eat on the Paleo Diet
The Paleo Diet may seem rather straightforward when it comes to all-natural fuel, but there are a few unexpected twists! While there are specific staples to always have on hand, foods like dark chocolate, alcohol, and natural sweeteners are debatable within the Paleo community. Ultimately, the boundaries of any diet are up to you, but if you're looking to adopt a true Paleo lifestyle, here are five rather surprising foods that are considered off limits by many in the Paleo community.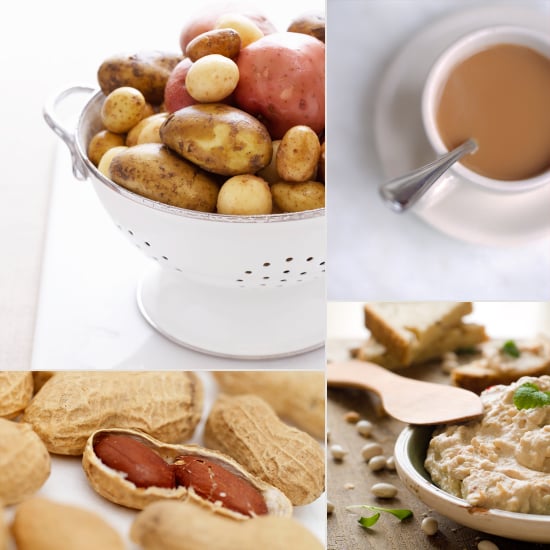 Peanuts: Although nuts like cashews are encouraged on the Paleo diet, peanuts are not. This is because they are a legume, not a nut, that contain lectins and phytic acid, which many in the Paleo community believe cause inflammation and gastrointestinal distress. Because of these potential health problems and the fact that peanuts are often prepared roasted with additives and salt, they are off limits on this diet.
Starchy vegetables: While there is some debate about having starchy vegetables on the Paleo diet, potatoes and other tubers are almost always off limits. Not only do vegetables like potatoes require a lot of cultivating, they are also high on the glycemic index scale and contain a good amount of carbohydrates, which are believed to have a negative effect on blood sugar levels, something the Paleo Diet aims to stabilize.
Coffee: Because the Paleo Diet is all about choosing foods our ancestors would have eaten, that sugar-free latte is certainly not an option. Although black coffee is a natural drink, caffeine can become very addicting. Many argue that by sticking to a strict Paleo Diet, you will experience an increase in energy and eventually won't want or need that morning cup of Joe.
Chickpeas: Since legumes are forbidden on the Caveman Diet, so are chickpeas (and hummus), because they need to be cooked or otherwise processed to be eaten. A good alternative to chickpeas is using eggplants or cucumbers to make dishes like baba-ghanoush, a similar dip to hummus.
Quinoa: While quinoa isn't technically a grain, it's a seed that has grain-like properties. Similar to buckwheat, these pseudo grains are believed to contain antinutrient compounds, which can have harmful effects that irritate the immune system. Not to mention, with only eight grams of protein per cup, it is not as high in protein as other Paleo-friendly foods like a small serving of lean meat.