French Study Challenges Notion That Moderate Drinking Is Good For Heart
Why That Glass of Wine Might Not Be Heart-Healthy After All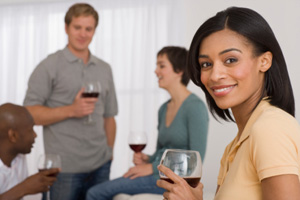 I was surprised to hear from Yum about a new study that shows people who drink a half bottle of wine a day are healthier. Suddeny, the idea of happy hour was sounding pretty darn good. But before I could get too excited about the findings, I found out that researchers of the study say it's not the alcohol that's helping, but the person.
When researchers studied the participants who only drank in moderation, they found that they were generally healthier to begin with. Besides having stronger social ties and better social standings, they had lower "bad" LDL cholesterol levels, a better BMI, and a lower blood pressure. Also of key importance was that they exercised more. Given the findings, researchers say that having good heart health is more about your lifestyle, and less about the the vino. This is pretty big news given that previous studies have credited moderate alcohol — especially wine — with lowering the risk of cardiovascular disease.
While the American Health Association is OK with drinking one or two glasses of wine a day, I don't think this study should be license to abstain or go off the deep end. While the study might say there is no direct relationship with drinking and heart health, your liver is another story altogether.