Fresh Homemade Green Juice
See How Evolution's Sweet Greens Juice Compares to a Homemade Version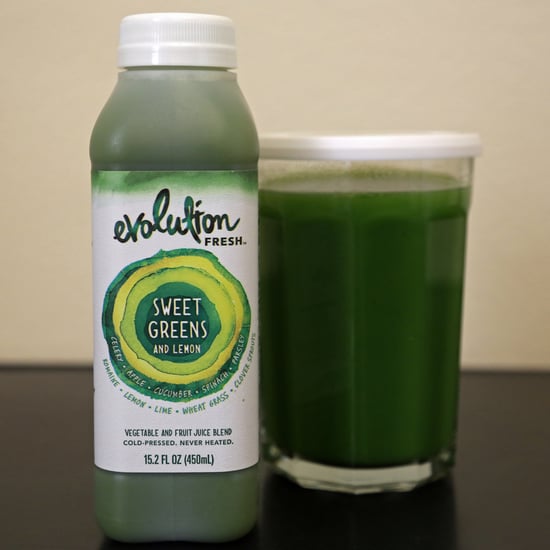 When I'm on the go or out of town, I turn to trusty Starbucks to pick up my favorite bottled green juice: Evolution Fresh Sweet Greens and Lemon Juice. With that bottle of the slightly sweet, definitely green, and perfectly smooth stuff, I always feel like I'm doing my body good when I invest in a $6 bottle. The back of the bottle showcases the fruits and vegetables used, and on a recent day, I thought, "Hmm, I'd like to try that recipe out at home."
Upon closer look at the ingredients list, I was a little disappointed by the actual amount each bottle provides. While there is a sufficient amount of celery, apple, and parsley, other ingredients have oddly minimal amounts: 1/8 of a cucumber, 2/5 leaf of romaine lettuce, and 5 leaves of spinach? As an avid juicer, I felt a little ripped off.
I tried to stay as true as I could to the amounts listed on the back but did make a few tweaks so each ingredient makes a significant presence in the juice. (My grocer doesn't carry fresh sprouts or wheatgrass, so I didn't include those in the recipe, but that's not to say you shouldn't add them.) I was worried that with so many ingredients, the juice would take a long time to make, but start to finish, it took 15 minutes to chop the vegetables and process them through my Omega Masticating Juicer. Interestingly enough, the juice yields at least twice the amount of juice you'll find in the bottle, if not more.
When I bought the ingredients, I was curious to know if it would be cost-effective, compared to the Evolution juice. When I broke the price down based on the recipe I developed, the total amount of organic ingredients was $5.14, so not much less than the Evolution bottle. For the recipe, and a side-by-side taste comparison, read more.
Next to the vibrant bright green hue of our homemade juice, Evolution's Sweet Greens juice looked slightly swamp-colored. We gathered a group of YumSugar and FitSugar editors, and in a side-by-side tasting, the effect of fresh-pressed juice was clear. The Sweet Greens tasted sweet and mild with a hint of lemon, but that was before we tried our homemade juice. The homemade version was robust, slightly salty, and zingy from the citrus; it had an eyebrow-raising quality that could only be described as alive. While it was slightly thicker and not quite as smooth in texture (and some tasters felt the citrus was overpowering), its bracing quality ultimately left the Evolution juice tasting flat, thin, and sweet in comparison.
Overall in the side-by-side tasting, tasters preferred fresh, homemade green juice prepared with the same ingredients; however, we still love Evolution's Sweet Greens and will no doubt purchase it whenever we're in need of a quick green juice fix.
Notes
If you prefer a sweeter juice, then use half the amount of celery stalks and add another apple (so 3-1/2 celery stalks and 2 apples). If you are not a huge fan of citrus, then do not run the lemon and lime through the juicing machine. Instead, squeeze a spritz of lemon and lime into the finished juice.
Ingredients
7 celery stalks
1 apple, cut to fit juicer
1/2 cucumber, cut to fit juicer
40 parsley sprigs (leaves and stems)
1/4 cup (1 small handful) spinach leaves
5 large romaine leaves
1/4 to 1/2 lemon, cut to fit juicer
1/4 to 1/2 lime, cut to fit juicer
Directions
In a fruit and vegetable juicer, juice all ingredients. Discard solids. Strain juice through a fine mesh sieve before serving in a glass. Add a few ice cubes to the glass if you prefer a colder beverage. Serve immediately, or store in an airtight container and refrigerate for one day or up to three days, if using a masticating juicer.
Serves 1 to 2.
Information
Category

Other, Drinks

Cuisine

North American