Frog Exercise From Barre
Exercise For Your Backside: Frog
Chill out on your belly and tone your butt at the same time — what's not to love? This frog exercise, found in many barre workouts, is great for toning and lifting the bum. And you can do it at home.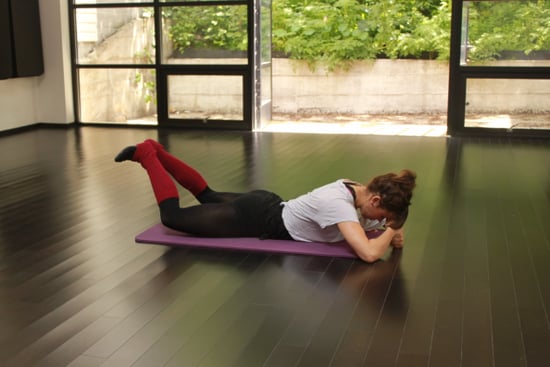 Start lying on your stomach on top of a mat or soft area. If your mat is on hardwood, then I recommend folding a piece of the mat underneath your hips for extra cushion. With one fist on top of the other and your elbows bent, place your forehead into your top fist, and press your arms into the floor for support. Bend your knees, flex your feet in the air, and lift your knees off the floor.


From this position, extend your knees behind you, using the energy in your heels to press your legs away in a pulsing tempo. With every press your heels, emphasize the slight straightening of the knees as you pulse your legs away from your butt. Think of a frog that squats down and leaps. Your knees are making a similar motion and, like a frog, your legs are suspended in air. Complete this exercise for 20-30 reps. For added challenge, release your arms out in front of you for the last 10 reps to tone your upper back at the same time.
Photographed at Pop Physique in San Francisco, CA