Fruit Juice Cuts Chocolate Fat in Half
Juicy News: Scientists Slash Half the Fat From Chocolate
This morning brings great news for all chocolate lovers out there! A British scientists have effectively cut chocolate's fat content in half. In order to slim down the traditional recipe, a team of scientists out of the University of Warwick have employed help from a juicy source.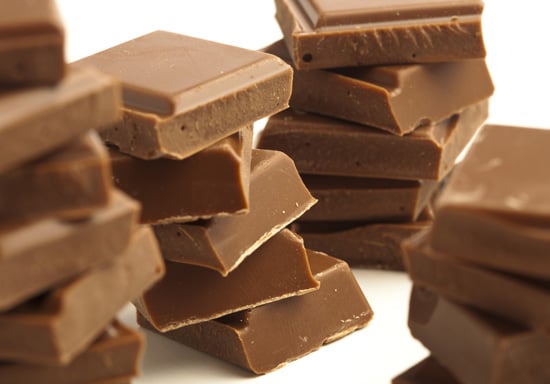 Keep reading to find out how scientists cut chocolate's fat content in half.
In order to reduce the high fat content in chocolate, scientists used tiny droplets of orange and cranberry juice. After infusing the juice into dairy, the final chocolaty product kept its original texture and ability to melt. Since there's juice incorporated into the recipe, the new chocolate does have a fruitier flavor than we're accustomed to. However, there's also an option to use water and ascorbic acid in order to keep a classic chocolate taste in the lower-fat creation. Dr. Stefan Bon said, "Our study is just the starting point to healthier chocolate — we've established the chemistry behind this new technique but now we're hoping the food industry will take our method to make tasty, lower-fat chocolate bars."
I'm sure all the self-proclaimed chocoholics are rejoicing about this find! But until this treat is out on the market, be sure to cook up one of these healthy chocolate recipes to satisfy your sweet tooth.