Fun, Crafty Workout Ideas
4 Ways to Make Your Next Workout More Fun
Is your strength-training workout getting stale? These creative ideas will keep you motivated while adding variety and surprise to your next workout.
Deck of Cards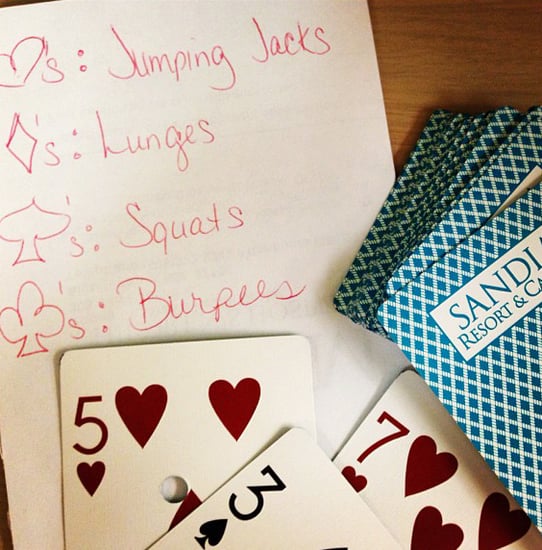 Everyone from Jillian Michaels to Carrie Underwood loves using a deck of cards to add variety to their workouts. Carrie starts with a 15-minute treadmill warmup, then goes through the whole deck to burn 600 calories in about an hour-and-a-half; find out Carrie's method here, or see Jillian's deck of card workout here.
Popsicle Sticks
This idea is as motivating and satisfying as crossing something off your to-do list. You'll need two jars and some popsicle sticks (the more you have, the more variety!). Write an exercise on each popsicle stick, and stick them all in a jar; whenever you finish an exercise, put that popsicle stick in the other jar. This works well for circuit workouts, or just to keep you moving when you have a few minutes to spare; you can also make each popsicle stick your daily workout with this color-coded popsicle-stick workout idea from espnW.
Read on for two more fun workout ideas!
Alphabet Abs
Sick of doing never-ending crunches? Spice up your next routine with a quick set of alphabet abs. Here's how to do them:
Lie on your back and bring your legs up one at time so your toes are pointed toward the ceiling. If your hamstrings are tight, then go ahead and bend your knees a bit.
Pull your abs deeply to your spine and bring your low spine toward the floor. If your abs are weak, then place your palms on the ground under your pelvis. This will give you a little lift and help protect your lower back until your abs become stronger.
Think of your toes as the point of a pencil, and write the alphabet in lowercase cursive on the ceiling. The bigger you make the letter, the more you work your abs.
Do not let your lower back come off the floor when writing letters with tails like F, G, P, and Q. Really use your abs to anchor the top of your tailbone down.
To dot the I and the J, do a Pilates hip-up.
If crunches aren't your favorite exercise, then work your abs similarly standing up by tracing the alphabet with a medicine ball held in front of your chest.
Dice
Leave your workout to chance by assigning an exercise to each side of your dice (use one die for six exercises or two to add more variety with 12 exercises). You can also assign the duration to each number (10 seconds, 20 seconds, 30 seconds, etc.) and do an exercise for as long as what you roll.