Fun Ways to Use an Exercise Ball
It's Crunch Time: How to Flatten the Abs With a Round Ball
If you're not changing up your routine, ab exercises have a way of getting tedious and boring. Keep things fresh with these simple barre-inspired moves that get turned up a notch with the use of an exercise ball. The burn has never felt so good!
Beneath Your Toes
Place the exercise ball on the floor with your toes lightly on top; keep hands behind the bend of your knee.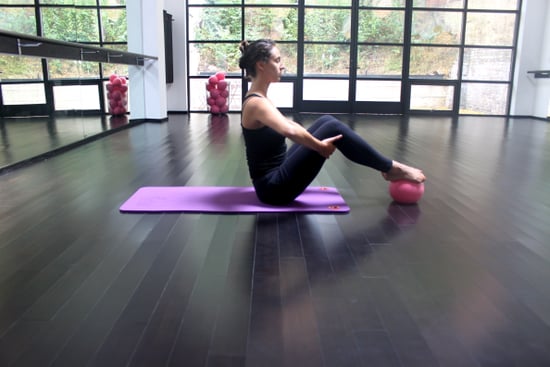 While keeping your toes on the ball, zip legs forward. As you straighten your legs, pull your belly button down toward your spine and lower your back; return to the starting position. Do 10-15 reps.

See how to amp up a plank when you read more!
Holding in Plank
Position the ball between your upper thighs before setting your body up for dolphin plank. Once your weight is on your forearms, rock your heels away from your elbows and repeat for 30 seconds.


For more burn: lift one of your feet off the ground and bend your knee so that your toes are pointing up. Pulse the leg toward the ceiling 10-15 times.


Photographed at Pop Physique in San Francisco, CA