Games That Are Good For Your Health
Motivating Social Games For Fitness Fun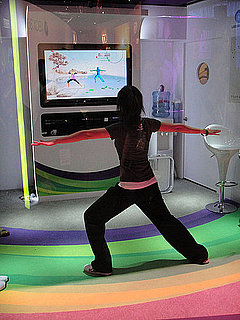 Last week Harvard researchers released some depressing statistics about the future of obesity in the US, saying that close to half of us will be obese within the next 40 years. A large reason why, the study claimed, is because of our social networks redefining what is acceptable.
If socializing with people who make unhealthy lifestyle choices can lead to a skewed view about obesity, then encouraging those who may be less motivated to get into a fitness routine sounds like a good idea. And even if you're just in a temporary slump, thinking of your fitness goals as a game can get you excited about working out. Luckily in this era of technology there are many ways to make a night out of socializing and fitness, join others around the world who share your goals, or play a game to make burning calories more fun. Check out some console and online gaming options after the break.
There's always the tried-and-true Wii Fit, but now that PlayStation and XBox are in the motion-sensor video game market there are more options for gaming on the move. Gather up your friends for some great street-fighting cardio on the PlayStation Move, or play controller-free with the XBox Kinect.
Health Month is a self challenge online game where you make your own rules at the beginning of the month and track your success in following them. You can see how others are faring that month as well and offer encouragement.
FamScape translates your family's fitness goals into an avatar-filled game land. Progress in the game is based on activities you accomplish in real life. You get points for doing chores, going to yoga, and getting enough sleep, and you can even hook up your pedometer to report your stats. Rewards are the real deal, like gift cards or video game packages.
There's a whole world dedicated to healthy gaming out there. Check out Games For Health, a collection of researchers, healthcare professionals, and game developers who test and develop games that bring awareness to the importance of being active and also hold an annual conference to discuss the latest in the health game industry.
Source: Flickr User popculturegeek