Gatorade Names Athletes of the Year
Gatorade Gives Big Nod to Young Athletes
To warm up for the ESPY Awards, Gatorade honored elite high school athletes at a luncheon yesterday afternoon in LA. For the last 25 years, Gatorade has honored the top up-and-coming athletes from the wide world of sports. Our fave Kerri Walsh won for volleyball back in '92, as did LeBron James in 2003 and more recently WNBA star Candace Parker.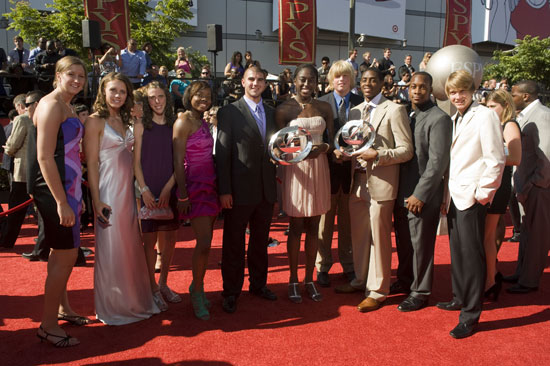 Listening to the accomplishments of the nominees for Gatorade Athlete of the Year award is inspiring (and kind of makes you want to reclaim your misspent youth). Along with amazing stats in their respective sports, the athletes all have done an impressive amount community work and have high grade-point averages (something I haven't thought about for years). Gatorade selects the best high school athletes in 12 different sports, divided equally between the sexes. The dozen athletes, yet to enter college, make a roster of who to watch in the coming years — think major league sports and the Olympics. From these 12, one top female athlete and one top male athlete are selected as the ultimate athlete of the year.
To meet the winners
.
This year's top award winners are both amazing basketball players. Top female athlete Chiney Ogwumike will be headed to Stanford to play hoops with her sister, and male honoree Brandon Knight will play for Kentucky — but look for him in the NBA in year or two. Incredibly articulate and self possessed for her 18 years, Chiney told me she was on cloud nine after winning. Already at Stanford, taking summer school classes to get a jump-start on her academics, she looked up to Marion Jones as a child since track and field was her first athletic passion, then later idolized WNBA great and four-time Olympic gold medalist Lisa Leslie, who was on hand to present Chiney her award. After the luncheon I was able to interview Lisa; check back soon to read what she has to say about hoops, motherhood, and makeup.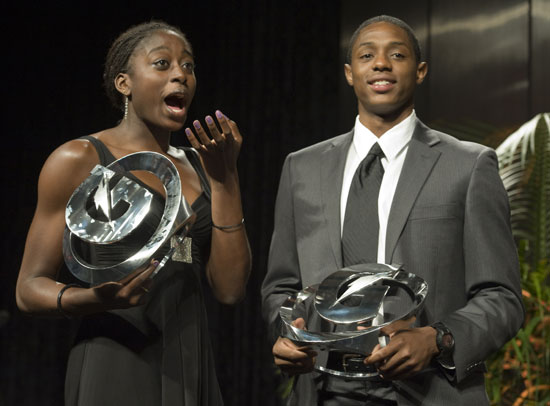 I will definitely be headed down to Stanford to watch the Ogwumike sisters. In the meantime, I will keep working my agility drills to get my game on.