Gear Review: Perfect Core Tank by Lucy
The Pilates instructor in me knows that we can all use a little help remembering to keep our abs engaged. I was intrigued by the technology behind the new Perfect Core Racerback ($64) by Lucy, so I asked them to send me one to test out.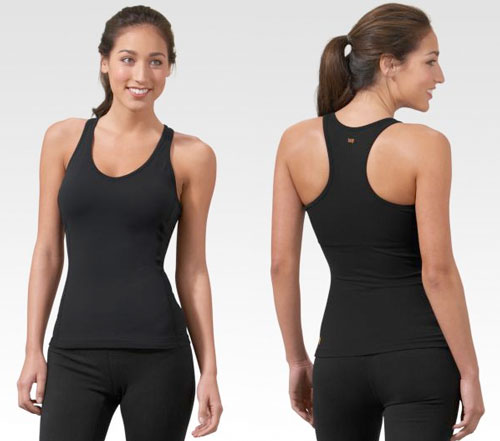 First off, I know that $64 is a bit steep for a workout shirt. However, this is the only top with a built in bra that I have tried in recent history that actually provided enough support for all my cardio action minus running. I like a lot of support for those long runs. The built in bra is made with separate molded cups, adding a little extra oomph to the chest and keeping all things nipple from showing.
The front of the shirt is lined with supportive mesh material Lucy calls xBAR technology (eXtreme Body Reforming & Alignment). It is certainly flattering; it pulls the tummy in just a bit. It's also supportive, partially because it is tight in an oddly pleasant compressive way, and it did remind me to keep core engaged. I was worried it might feel a bit like a corset when working out, but it didn't.
Although the Perfect Core Tank will definitely make it into my rotation of fave fitness wear, I do have a couple of problems with the top. To learn them,
.
One problem I have with the top is that although the shirt fit well in my ribs, the cut didn't accommodate the curve of my hips. Meaning I had to pull it down often. However, this happened more when I was sitting around in the shirt (I put on my workout clothes as a means of motivation — I am dressed for working out, so I might as well go to the gym). The shirt works better in action and during my 45 minute cardio / strength training sessions, I only had to pull it down once. The second problem is taking the shirt off. It is fitted and snug, which is great support, but this shirt is difficult to take off especially when sweaty. Possibly, I need a larger size, but in Lucy gear I tend to wear a small, although in most workout gear I consider myself a classic size medium.
The tank comes in a cobalt blue. Check out photos below for images of the inside of the shirt, since the internal construction is where the support comes from.