Gear Review: Sanita Professional Clogs
When you think clogs, chances are high the term "fitness gear" doesn't spring to mind. However, I couldn't have made it teaching Pilates for all those years without wearing my trusty clogs — slip them off, demo an exercise, slip them on. The company Sanita Clogs, which bills itself as "The original Danish clog," recently sent me a pair of holiday clogs to test out — the Holly Red Professional clog ($135).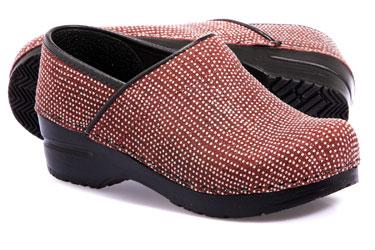 I wore these clogs in the kitchen for all my holiday cooking. To see how they fared
.
Standing over a stove for hours, my body can take a beating and the Sanita clogs saved my back and my feet. I felt like my professional chef friends who cook in similar clogs. The clogs provide tremendous arch support, exactly what my pronating feet need. Although the sole is stiff, it still has a nice shock absorbing quality. Although I enjoyed holiday shopping in my holiday clogs, they can be difficult to run in when dodging traffic and chasing small children because they don't have a lot of lateral support. But, these clogs are great for walking and the sole is designed to rock a bit and help propel you forward. The toe box is quite roomy so you can spread your toes out wide and are great if you have bunions. The Sanita clogs feel a bit more narrow than the Dankso clogs that I have worn, so if you have narrow feet you should try these clogs.
I found these clogs super comfy and supportive. Happy feet when not running, make for happier feet when training. The Sanita clogs are accepted by American Podiatric Medical Association, which is why you see plenty of nurses, doctors, and chefs sporting clogs. Try a pair on at a store near you, or pick up a pair from an online retailer.
Have you ever worn Sanita clogs? Tell me your experience below. Be sure to post a review of your gear in the Good Gear / Bad Gear group.