Get Fit For 2011 Bonus Challenge For Week One
Enter Our Get Fit For 2011 Giveaway: Bonus Challenge, Fitness Tests
We just started our three-month health and fitness giveaway challenge. The first challenge is to write a blog post in our Get Fit For 2011 group about your goals for the upcoming year. Simply writing the blog posts enters you into our giveaway, with weekly prizes ($100 gift card from Nike) and a fabulous grand prize (trip to LA for a fitness boot camp).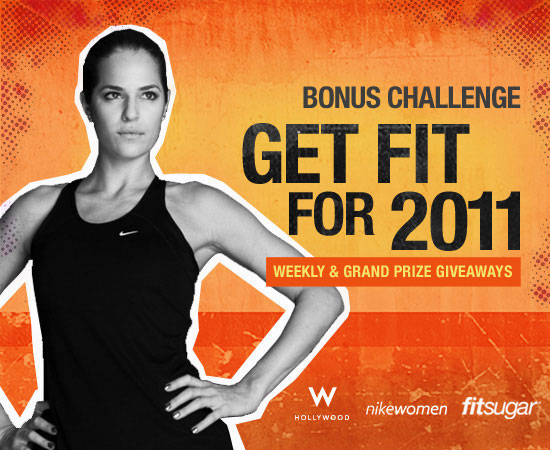 Well, we have a bonus challenge for you (remember, the more you participate, the more chances you have to win), and it's time to get physical. Week One Bonus Challenge: assess your fitness level with the three tests listed below and write a blog post in the Get Fit For 2011 community group with your results. This way you can track your progress at the end of the three-month challenge.
Here are your three tests:
Resting Heart Rate:

Take your pulse first thing in the morning by placing two fingers on your wrist or placing your index and third fingers on your neck to the side of your windpipe.
Count the number of beats you feel in 60 seconds (or the number you feel for 15 seconds, then multiply that number by four). When counting, do count the first beat as zero.
The number of beats you count in 60 seconds is your resting heart rate.
Learn the other fitness tests.
Core Strength:

Start by lying on your stomach on the floor and place your elbows directly underneath your shoulders with your forearms on the floor making parallel lines.
Curl your toes under and press up into an elbow plank and start timing yourself.
Hold the plank for as long as you can.

Quad Strength and Endurance:

Place your back against the wall, and walk your feet out and away from the wall about three feet.
Bend your knees, allowing your back to slide down the wall.
Bend both your hips and knees to 90 degrees and adjust your feet as needed. Imagine you are sitting in an invisible chair.
Start your stopwatch now and see how long you can hold the position.
Learn what your results mean here.
If you're not already a member of the PopSugar Community, register here now. Click here for the official rules. You have until 11:59 p.m. PST on Sunday, Jan. 16 to complete this bonus challenge. Get your stopwatch out and go to it!