Get Over the Hump Day: Measured Approach
Whether you're looking to lose weight, tone up, or run a marathon, seeing how your body measurements change is going to make you feel good. And really, who doesn't want to feel good about themselves? For the second challenge of the Get Fit For 2010 giveaway, I challenged you all to assess your fitness level.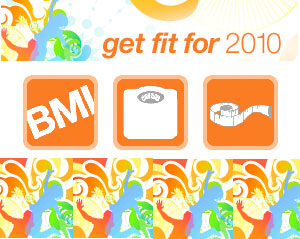 Now I am asking you to take some simple measurements of your body and write a blog post in the Get Fit group.
These two blogs will serve as a snapshot of the condition of your body at the beginning of the process, and be sure to include an actual snapshot of yourself if you haven't already (here's how to upload an image). This blog post enters you into our random weekly drawing of a $100 Nike gift card, as well as our tremendous grand prize.
All you need to do is write your weight, your waist size, and, if you can, your body fat percentage (many digital scales have this feature these days). If want to calculate your BMI and add that figure to your blog post, here is our BMI calculator. Think of this new blog post as extra credit to help you stay on track and get over the midweek hump.
Taking these measurements will help you see how your hard work has paid off and how much your body has changed during this three-month challenge. Don't use these measurements to beat yourself up; use them as motivation as a starting point.
Ready. Set. Measure!