Get in Shape For a Bikini Without Working Out
Gym-Free Bikini Workout: Simple Activities to Tone Up Before the Summer
Dieting and exercise are obvious choices to help slim and tone you up for bikini season, but there are easy tricks to sneak toning exercises into your daily life. Here are five easy ways to get a full-body workout, without stepping foot in the gym.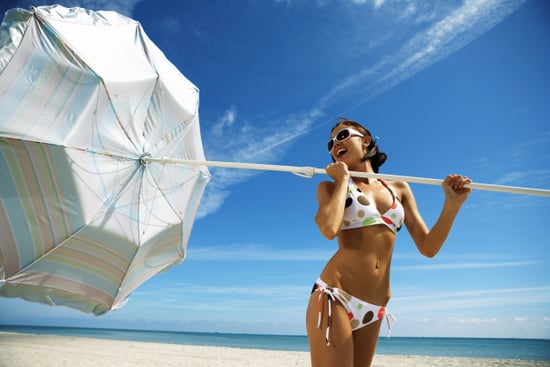 Carry your groceries: To target the arms, carry a basket when grocery shopping rather than pushing a cart. Walking with the heavy basket, shifting it from arm to arm, and reaching up and down for groceries makes this a dynamic weight-bearing exercise.
Keep things tight: Whether you are standing in the shower, blow-drying your hair, walking down the street, or sitting at your desk, activate your ab muscles. Your abs are never intended to relax, so challenge yourself to tighten your core all day, especially if you have any nagging back pain.
See more bikini tips.
Use those legs: When you aren't sitting at work, stay active by standing up in your off-time. Go on daily walks, bike, or take up a dancing class to naturally tone your thighs and legs. Or, simply take a walk around the office or a trip up and down the stairs.
Put some back into it: Forget about your dishwasher for a few months! Keeping your shoulders down and back and engaging your abs and glutes, hand wash all of your dishes, including heavy pots and pans. Not only is it an easy way to burn off extra calories, but it's also a great workout to improve and strengthen your standing posture.
Take the stairs instead: Forgo the elevator and take the stairs everywhere! Keep your abs and butt engaged with each step to activate your glute muscles. Pay attention to your shoulders; they should remain straight over your hips rather than leaning over to stay balanced.