Get Your Vitamin H: Outdoor Hockey
I spent three days deep in hockey country of the twin cities of Minnesota. In those three days I was inundated with hockey — starting with a late night viewing of the movie Miracle about the 1980 gold-winning Olympic team, followed by cheering for my nephew in a game of pee-wee hockey, and culminating in playing a game of hockey with kids ages 5 to 45. Yes, when you're skating outside on a rink made in the local park by flooding a baseball field, you become a kid again.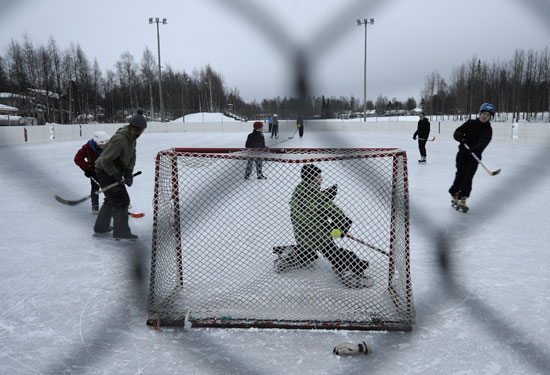 With light snow falling, I played my first pickup game of hockey and gosh-oh-gee it was fun. Playing hockey is a workout that I like to call intervals on ice. It is serious anaerobic training as you sprint between the goals, switching between defense and offense. It is a scrappy game, but important to follow the no checking rule, especially when playing against men a foot taller and children a foot shorter than yourself, as was my case.
The thrill of chasing a puck on ice makes time fly by as you burn plenty of calories. Dressing in layers is key; once you start moving you're going to want to peel the top layers off and I recommend base layers with wicking properties because you will sweat. If you have padding or gear I recommend it, since falling is a common issue with beginner players and ice is not so soft. I also think a helmet is a good idea — protect your noggin from a hit on the ice. The day after the game, I was sore in my forearms and low back, so make sure to stretch out your wrists and do some spinal twists post game.
If you live in a wintry place, outdoor hockey is a great way to exercise and it's cheap. You don't have to pay any rink fees. Any hockey players out there?