Getting in Shape For the Wedding With Your Significant Other
Wedding Prep: Couples That Work Out Together, Stay Together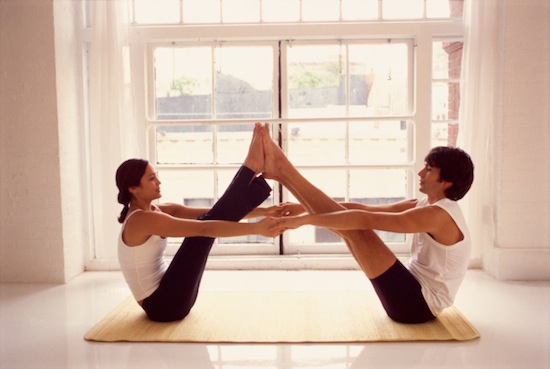 Planning fun fitness outings with your spouse-to-be makes it that much easier to get in shape for your upcoming wedding. The fact that your partner is crime is joining you in your workout endeavors, means you can be adventurous by planning weekend hiking dates, kick up your heels on a Friday night, or maybe even take the sweat session to the beach like Olympic athlete Kerri Walsh and her hubby. But what else can you and your Mr. Lova Lova do that will help you keep fit and provide ample amounts of fun? Here are some options.
Couples Yoga: I haven't been able to coerce my fiancé into taking a couples yoga class with me as of yet, but they look like so much fun (fortunately we have conquered step one — going to yoga together). Couples yoga is great because it is intimate, requires trust and closeness, and it helps you achieve deep stretches that you maybe otherwise couldn't achieve on your own. If you can't find couples yoga classes in your area, pull out a mat and start doing these partner yoga poses in the comfort of your own home. Naked yoga, anyone?
Boxing: To balance out your Zen workouts (and maybe get out a little aggression), why not try taking up some couples boxing classes? A 150 pound woman can burn about 700 calories per hour with a vigorous session of kickboxing, so you're guaranteed an intense workout session. Perfect your jab, hook, uppercut, do some speed drills, have some cardio fun with the punching bag, all while building trust with your mate. Hey, if toned celebs Tori and Dean do it, maybe it really is the ultimate couples workout? Here's some more info to get you punching and kicking in no time.