Gilt Groupe Offers Discounted Fitness: Get Fit With Gilt
Save Major Bucks on Manduka, Adidas, and More
If you are a fashion addict, then no doubt you are already a fan of Gilt Groupe, which sells designer duds at way cheaper prices through its two websites, Gilt and Gilt Fuse. Much like collective-buying sites, the sales last for a limited time. The savings are pretty amazing, and starting this Friday, Gilt will be running a fitness-themed sales event called Get Fit With Gilt.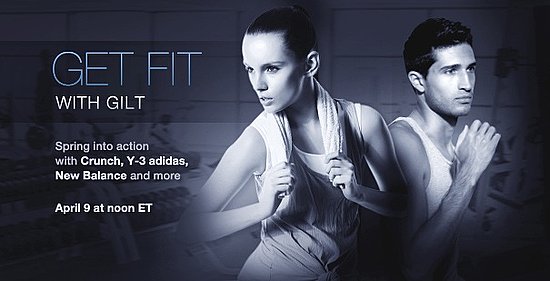 Among other things, the sale will feature tracksuits from Y-3 Adidas, yoga wear from Be Present, Manduka mats, and shoes from New Balance. Besides clothing, Gilt will also offer discounted rates to Crunch, Pure Yoga in NYC, and race slots and all-inclusive packages to the Iron Girl Triathlon in Atlanta, Syracuse, and Lake Tahoe.
I know I sound a bit like a PR agent, but I'm a big fan of Gilt and saving money — especially when it comes to fitness. The most important thing to keep in mind is that the fitness items will go on sale Friday at 12 p.m. EDT and end on Sunday evening, and everything is on a first-come, first-served basis. Happy shopping!