Glee Remakes "Let's Get Physical"
Glee Gives Us an Excuse to "Get Physical"
Last night, Glee (one of my most favorite shows ever, BTW) paid homage to some pretty cheesy musical gems like MC Hammer's "Can't Touch This," Vanilla Ice's "Ice, Ice Baby," and what could be the FitSugar anthem — Olivia Newton John's "Let's Get Physical."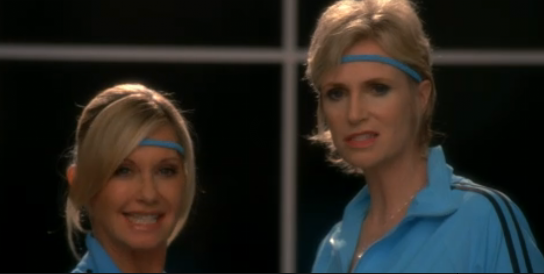 First, the gleeks post an incriminating video on YouTube of Cheerios leader Sue Sylvester dancing by herself to the double entendre '80s hit, causing Sue to go into total revenge mode. In the end, I'd say Sue came out alright though: Miss Let's Get Physical herself, Olivia Newton John, shows up to remake the video and casts Sue as her costar. After watching the Glee remake I couldn't help myself from wanting to relive the glory and the spandex of the original. So bust out your favorite leggings, headbands, and aerobics moves and be inspired to get up and go!
To see the video keep on reading.
Photo courtesy of Fox