Gluten-Free Crepe Recipe
A Reader Recipe: Gluten-Free Protein Crepes
Begin your workweek with a little reminder of the weekend with these fast gluten-free crepes from Gabbysgfree, who shared the recipe with us in our Healthy Recipe group.
These simple, grain-free protein crepes can be sweet or savory and also make a great gluten-free wrap substitute!

Grain-Free Protein Crepes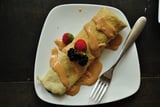 Ingredients
Yields: four very large crepes or two servings
1/4 cup coconut flour
2 tbsp. ground flaxseed
2 eggs
3 egg whites
1/4 cup unsweetened almond milk
1/2 tsp. baking soda
Directions
Heat a large nonstick skillet over medium-high heat. You can coat your pan with cooking spray if it needs it — mine is fine without.
Combine all ingredients in a food processor or blender and blend them until thoroughly combined. Alternatively, you can combine the ingredients in a large bowl and use your immersion blender to blend them.
Pour the batter into a hot skillet and swirl it around to create a large, thin circle.
Let the crepe cook until bubbles in the batter begin to pop, gently easing up the sides every few moments, about three minutes or less. The crepe is pretty delicate at this point, but you will get the hang of it!
Flip the crepe (it should be slightly golden) and cook the other side until it's firm when touched, another two minutes or so.
Fill and enjoy!
Information
Category

Breads, Breakfast/Brunch

Cuisine

North American
Share your own recipes with us in our Healthy Recipe group, and we may feature them on our homepage!