Gluten-Free Dressing Recipe
Gluten-Free Thanksgiving: Southern-Style Cornbread Stuffing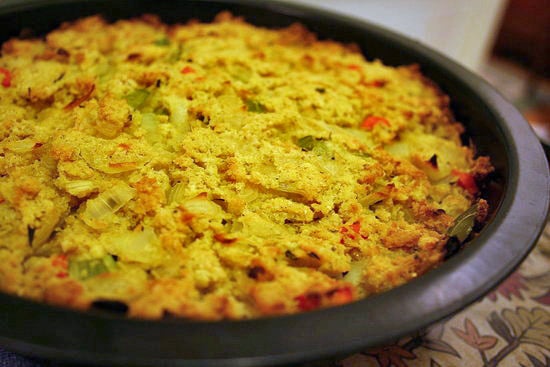 This Southern-style cornbread dressing recipe has been in my family for four generations, using Jiffy cornbread mix. However, it can easily be turned into a gluten-free dressing by substituting regular cornbread mix for Bob's Red Mill Gluten Free Corn Bread Mix. The texture and flavor tastes exactly the same, so gluten-free eaters can rejoice this holiday.
Gluten-Free Cornbread Dressing
From Anna Monette Roberts, FitSugar
Ingredients
1 3/4 cup Bob's Red Mill Gluten Free Corn Bread Mix
3/4 milk (rice, almond, soy, or dairy)
2 1/2 tablespoons canola oil or melted butter
1 egg
1 onion, diced or 1 bunch green onion, diced
1 red bell pepper, diced
2 ribs celery, diced
1 carrot, diced (optional)
1/2 teaspoon poultry seasoning
1/2 teaspoon fine herb seasoning
1/2 teaspoon curry
1 pinch sage
1 pinch cayenne pepper
1 cup chicken broth
Salt and pepper to taste
Directions
To make cornbread: Preheat oven to 375 degrees F. Grease two 9-inch pans.
Pour cornbread mix in a bowl. In a separate bowl, whisk together milk, oil (or butter), and egg. Pour liquid over cornbread mix, and lightly stir until just combined. Overstirring can lead to gumminess.
Pour mixture in a greased pan, and bake for 25 minutes, or until fork comes out clean. Let cornbread completely cool.
To make dressing: Heat oven to 400 degrees F. In a sauté pan, add one tablespoon oil or butter, and sauté onion for 5-7 minutes, or until tender and translucent. Add poultry seasoning, fine herb seasoning, curry, sage, and cayenne pepper. Cook for one minute. Add celery, bell pepper, and carrot and sauté for an additional 5-7 minutes, or until tender.
In a metal bowl, crumble cooked cornbread by hand, and add sautéed vegetables. Slowly pour in chicken broth, and stir until mixture is moist, but moldable. Salt and pepper to taste. Press mixture into the second greased pan, and bake for 45 minutes, or until the top is golden brown and dressing releases from the sides of the pan.
Serves 8.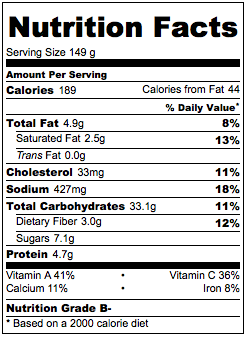 Nutritional Source: CalorieCount
Information
Category

Side Dishes

Cuisine

North American