Gluten-Free Kitchen Sink Cookie Recipe
A Reader Recipe: Grain-Free Kitchen Sink Cookies
Reader AllieNic's Kitchen Sink cookies are chock-full of good-for-you ingredients. She shared her recipe in our Healthy Recipe group.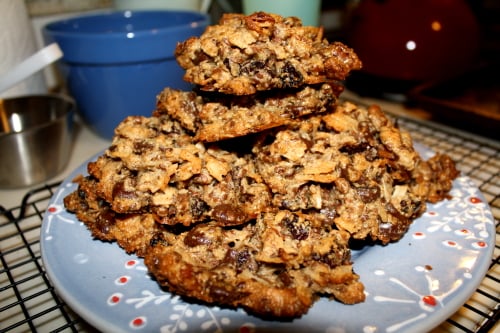 Grain-Free Kitchen Sink Cookies (adapted from Une Vie Saine)
Read on for more.
Ingredients:
1 heaping cup unsweetened coconut flakes
2/3 cup blanched almond flour
1/2 tsp cinnamon
1/4 tsp salt
1/3 cup flaxseeds
1/2 cup maple syrup
3 Tbsp almond butter (I used smooth, unsalted)
1 1/2 tsp vanilla
2 Tbsp coconut oil, melted
My Kitchen Sink Ingredients:
2/3 cup dark chocolate chips or chunks
1/3 cup dried, tart cherries
1/3 cup raw pecans, coarsely chopped
(Feel free to add your own kitchen sink ingredients like dried cranberries, raisins, walnuts, chia seeds, sunflower seeds, pumpkin seeds, carob chips . . . The possibilities are endless.)
Sound like a pretty cool recipe? Click here to visit my healthy living site, Frisky Lemon, for directions and more pictures!
Share your own recipes in our Healthy Recipe group, and we may feature yours on our homepage!