Gluten-Free Salty Snack Recipes
3 Gluten-Free Make-Ahead Snacks to Satisfy Salty Cravings
When you're craving something salty, crackers and pretzels are a popular choice, but they're not an option if you're avoiding gluten. You could buy pricey gluten-free alternatives, but they're not exactly the healthiest snacks. Here are three salty snacks you can prep ahead of time that are free of wheat, barley, oats, and rye.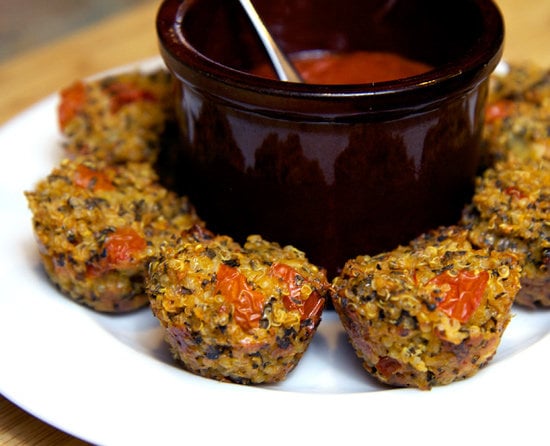 Gluten-Free Quinoa Pizza Bites
Made with cooked quinoa, gooey mozzarella cheese, cherry tomatoes, and fresh basil, you won't be able to resist dipping and noshing on these chewy quinoa pizza bites. One piece contains 48 calories, .7 grams of fiber, and 2.8 grams of protein. They're so zesty and filling that after three, your salty cravings are sure to be satisfied. Prepare a batch and keep them in the fridge so they're ready when your salty cravings strike.
Keep reading to find out how to make the savory zucchini and sweet potato squares above, and for one more gluten-free salty snack idea.
Crispy Baked Zucchini and Sweet Potato Latkes
These deliciously crunchy bites are sauteed in only a little oil, so they're low in fat, but high in flavor. Made with freshly grated zucchini, sweet potato, rosemary, garlic, and Parmesan, one savory square is only 59 calories and offers .9 grams of fiber and 2.3 grams of protein. The recipe calls for breadcrumbs, so just substitute for gluten-free.
Tofu is typically found on a lunch or dinner menu, but this gluten-free protein-packed food shouldn't be overlooked when it comes to snacking. Baked is one of the simplest ways to prepare tofu, and you can make a big batch to store in the fridge for a quick and easy snack. All you need is a block of extrafirm tofu, a little olive oil, honey, tamari (wheat-free soy sauce), and a sprinkle of dried thyme, cumin, and dill. Whip up this recipe in about 30 minutes and you'll have a slightly crispy, irresistible, and salty snack.