Gluten-Free Strawberry Crumble
Try substituting other fruits like blueberries, raspberries, or peaches.
Gluten-Free Strawberry Crumble
Original Recipe
Ingredients
4 cups strawberries, quartered
2 Tbs. lemon juice
1 Tbs. brown rice syrup, heated in saucepan
1 Tbs. flax seed
3 Tbs. oatmeal
1/2 cup brown rice flour
1/4 tsp. Xanthan gum
1/8 tsp. baking powder
1 Tbs. organic sugar or maple crystals
1 Tbs. salted butter or Earth Balance, cold and cubed
1/4 tsp. vanilla extract
Directions
1. Preheat the oven to 350. In a bowl, combine strawberries, lemon juice, and warm brown rice syrup. Pour mixture in a 4-cup baking dish or pan.
2. In another bowl, combine all dry ingredients. Using a fork, mash in butter and vanilla until butter is thoroughly incorporated and mixture resembles sand. Sprinkle dry mixture over strawberries.
3. Bake for 45-60 minutes or until strawberries are bubbling and crust is golden.
Serves 4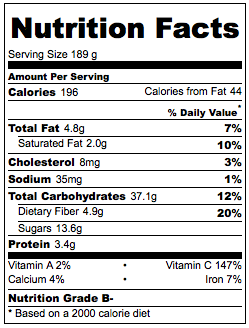 Nutrition Info Source: Calorie Count
Information
Category

Desserts

Cuisine

North American